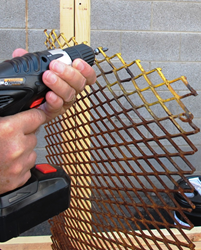 "Torx® has been around for over 45 years, it's time for an updated, revised, and better Torx® fastener to flood the marketplace," says Bryce Campbell, President and CEO
Gilbert, Arizona (PRWEB) October 21, 2014
American cold heading manufacturing is still thriving due the likes of contemporary security fastener manufacturer, Bryce Fastener Inc. The 2014 National Fastener & Mill Expo is less than a day away and Bryce Fastener is planning to show how they've reincarnated an American lost trade into something more of a fine art. They make unique drives on security screws and nuts where only one driver bit can be used on the fastener, creating a lock and key effect to prevent theft and tampering. Recently, they channeled their innovative skills to create a revision to the common Torx® fastener called REVX™. Free Samples and demonstrations will be available at Booth #315.
"Torx® has been around for over 45 years, it's time for an updated, revised, and better Torx® fastener to flood the marketplace, says Bryce Campbell, President and CEO. " There are problems with Torx®, I knew we could fix," said Bryce. "We created a revised version to drive straighter, faster, and torque higher than any other screw on the market." A common complaint with a Torx® fastener is the lack of bit engagement between the screw and the bit. REVX™ is made to have zero tolerance between the bit and the screw giving the installer 360⁰ degree control with precise positioning. In fact, Bryce Fastener claims, "Once the screw is mounted onto the drill, the screw is strong enough to carry the assembly piece into position." With full power, the screw drives perfectly straight and fully tight decreasing installation time by 10-30%. Torx® and REVX™ can be easily interchanged and the performance of Torx® will improve when paired with a REVX™. Free samples and demonstrations of the new patent pending REVX™ will be available at the National Fastener & Mill Expo where Bryce Fastener Inc. will be exhibiting at Booth #315.
Since setting up a cold heading machine shop in 2003, Bryce Fastener Inc. has developed a number of patents and seen steady growth and demand for their unique fasteners. Their present brands are Key-Rex®, Penta-Plus™, Penta Nut™, Key-Rex Nut™, Bryce Wheel Locks™, REVX™ and Key-REVX™. They have capabilities to make Metric and Standard micro sizes as small as 000-120 up to 5/8-11 bolts. Their R&D talent has also created new methods of heat treating and black coating more efficiently and economically. Bryce serves customers in industries such as public utilities, retail electronics, corrections, construction, military, solar, public transportation, universities, automotive aftermarket, and much more.
For a dying trade that's been long lost to foreign shores, it seems Bryce Fastener Inc. is reinventing cold heading manufacturing in America. For all things related to fasteners, including fastener machinery, tooling, abrasives, hand tools, drills, cutting tools and other industrial products and services, they will all be available at the National Fastener and Mill Expo on October 22-24th 2014. For all things unique and innovative, visit the Bryce Fastener at Booth #315 or on their website.