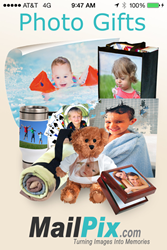 MailPix easily accesses photos from social networks, so that perfect photo is always available, even if it's on Facebook or Instagram.-- Fred Lerner, co-founder and CEO, MailPix
Huntington Beach, CA (PRWEB) June 03, 2014
MailPix.com, the photo-printing and gifting site, reminds everyone to remember dad this Father's Day, June 15, with personal photo gifts. Nothing makes a dad prouder than to show off his family with a photo canvas, a coffee mug or a T-shirt.
The new MailPix Photo Gift app offers more than 25 gift styles, including popular eco-friendly photo grocery bags, photo mugs, photo blankets, customized iPhone and iPad cases, photo t-shirts. Just import pictures from Facebook and Instagram, as well as the camera roll, and then choose your gift, and the order will mailed directly to your home.
Running late? It's MailPix to the rescue with the SameDayPix app for printing to thousands of pick-up locations across the United States.
"MailPix easily accesses photos from social networks, so that perfect photo is always available, even if it's on Facebook or Instagram," says Fred H. Lerner, CEO and co-founder, MailPix. "Surprise dad with an 8x10 picture from his own photo album."
About MailPix.com
MailPix.com is the pre-eminent site for printing photos instantly at thousands of retailers from your phone app or PC and also offers convenient mail-to-home. MailPix preserves photo memories as photo books, canvas, prints, cards, enlargements and other photo gift products featuring free lifetime storage. We are seamlessly integrated to print your or your friends' 240 Billion+ Facebook and Instagram photos…and photos from any phone, device or computer. MailPix offices are located in Huntington Beach, Calif., with an additional Canadian site at http://www.mailpix.ca.
Fred H. Lerner is the founder and CEO of MailPix, his latest startup. He previously founded Ritz Interactive which included RitzCamera.com, WolfCamera.com and others. Fred also founded two imaging companies which was acquired by Kodak and became the CEO of Kodak Processing Labs. He is a Hall of Fame recipient at the United Nations' International Photographic Council and Past President of the Photo Marketing Association International.
Peter Tahmin, co-founder and COO of MailPix.com, was the former vice president at Ritz Camera & Image and co-founder, senior vice president and COO of the Ritz Interactive e-commerce network ,which included RitzCamera.com, WolfCamera.com, BoatersWorld.com and others. He brings 20 years of e-commerce experience and a lifetime of imaging industry experience to MailPix.