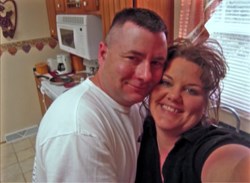 We created this award to not only honor Mike, but to give frontline leaders across the nation a chance to be recognized and heard. - Rich Cary
Cincinnati, Ohio (PRWEB) February 06, 2014
Definity Partners is searching for inspirational frontline leaders and supervisors dedicated to building strong, innovative teams.
Definity Partners believes the future of manufacturing resides in the courageous, frontline leaders of today. They need your help finding the best of the best. Of the thousands of frontline leaders across America, do you know someone who deserves to be recognized for their excellence? Let them know just how much their leadership has meant to you. FearlessAward.com is open today and ready to accept your nomination.
Inspired by the tragic death of their client, Mike Stilwell from Norris Screen, Definity Partners created this award program in honor of Stilwell and his family. Mike Stilwell, a frontline leader from Norris Screen in Tazewell, Virginia, made a huge impact at Norris Screen as he worked fearlessly every day dedicated to excellence, innovation, and openness to change. He left behind a legacy of his care for and belief in people, at work and within his community.
Tragically, in May of 2013, Mike was killed in an ATV accident. Definity Partners created the Fearless Frontline Leader Award as a tribute to his legacy and to all of the inspirational, bold, and fearless frontline leaders across the nation who are dedicated to making a difference. In a video created for Mike after his death, his co-workers, family and friends described Mike as an inspirational leader who would literally "give you the shirt off of his back."
"We created this award to not only honor Mike, but to give frontline leaders across the nation a chance to be recognized and heard. Their stories are great. We have an entire nation of hard working people who are inspirational and change the lives of the people they work with every day. They aren't afraid to try new things, admit when they are wrong, boldly go after what is right and devote themselves to making their teams better," states Rich Cary, Definity Partners RIG Master and Development Leader.
To nominate your favorite frontline leader visit http://www.FearlessAward.com today. Definity is accepting nominations through the end of March with an awards ceremony scheduled to be held in Cincinnati this coming May.
About Definity Partners:
Definity Partners is a leading business improvement firm that works directly with organizations to implement change, delivering rapid results through the Run, Improve, Grow (RIG) business methodology developed by Ray Attiyah and his team at Definity. The Definity approach is to simplify, standardize and automate your organization's operations through frontline empowerment, process improvement, education, technology optimization and cultural change. Definity helps you transform your organization's culture by working side-by-side with your frontline leaders, empowering them to make day-to-day decisions, enabling managers to concentrate on improving processes and growing the business. Freeing managers of the daily grind and time-consuming fire-fighting transforms an organization's culture and brings innovation, inspiration and new life to your teams. Does your facility need some inspiration? Headquartered in Cincinnati, Definity Partners has district offices in Cleveland, Columbus, and Atlanta. To learn more, visit DefinityPartners.com or call (513) 381-7200.
To learn more about the Fearless Frontline Leader Award visit http://www.FearlessAward.com or contact:
Robynn Anton, Media Relations
Definity Partners
8650 Governors Hill Dr.
Suite 110
Cincinnati, OH 45249
513.381.7200 Phone
513.381.7250 Fax