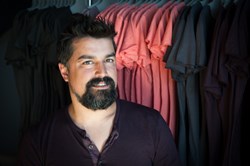 Feeding America's needy is part of what it means to be American.
Tucson, AZ (PRWEB) January 01, 2014
Arizona couple Alok Appadurai and Jade Beall started Fed By Threads as a tiny seed of an idea to raise awareness about the hunger problem in America by feeding 12 emergency meals to hungry Americans via foodbanks across the country every time someone bought a t-shirt at the dance studio. They had no idea that in only 18 months, Fed By Threads would be crossing its 100,000th emergency meal fed to some of the 50 million Americans facing food insecurity.
In November 2011, the couple received a letter from the Community Food Bank of Southern Arizona describing the depths of the hunger epidemic in America and they knew they had to do something. But as the t-shirts began to sell, they went even further and shifted manufacturing from overseas so that now every piece in the Fed By Threads' shop in Tucson is Made In America. Furthermore, to reduce carbon footprint, every piece is also made of sustainable fabrics like organic cotton, repurposed woodpulp, recycled plastic bottles, hemp, or bamboo.
From their humble beginnings as a 't-shirt' company, Fed By Threads now sells organic dresses, skirts, bras, shirts, cardigans, leggings, baby onesies, and numerous other thread-based items.
"We thought it would take 3 years to reach our goal but this holiday season was gang-busters," co-founder Alok Appadurai says. "Because so many people in America believe in Fed By Threads, we were able to make our 100,000 meal-goal much faster than we ever dreamed!"
Other companies now use Fed By Threads' ethical custom print service for t-shirts to get away from sweatshop-throw-away-single-use shirts. "It's win win for everyone involved," Alok say.
The couple is passionate about helping Americans shift away from fast fashion, support safe working conditions for garment manufacturers in America, protect the environment, and proudly they only make vegan clothing which avoids harming animals. Co-Founder Appadurai just gave an inspiring TED Talk video about Fed By Threads.
Fed By Threads feeds 4 meals a piece through the Community Foodbank of Southern Arizona in Tucson and 8 meals a piece through Feeding America, which is a nationwide network of 200+ foodbanks.
"When people shop at Fed By Threads, they know they are feeding the needy in our country, supporting American manufacturing jobs, and reducing their impact on the environment," Appadurai says.
The other co-founder, Jade Beall, has coined the phrase, "Wear The Change You Wish To See In The World," which is Fed By Thread's play on the inspiring Gandhi quote.
In March 2014 they will be moving Fed By Threads out of their studio and into a stand-alone Flagship Store on Tucson's booming Congress Street. Appadurai proudly says "I want to create the retail shopping experience I myself have never walked into and feed 100,000's of more meals!"
Learn more about Fed By Threads by visiting http://FedByThreads.com or click here to read the Fed By Threads Blog.