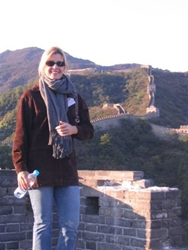 Washington, DC (PRWEB) February 28, 2014
Five Star Alliance has appointed Cheryl Scheideler to the position of advertising and business director for the organization.
Ms. Scheideler will be responsible for leading the advertising and marketing sales focus for the only fully comprehensive, editorial collection of luxury hotels and resorts. Additionally, she will work to forge and develop strategic business relationships within the worldwide luxury and travel markets.
Ms. Scheideler is a results-driven marketing and sales leader who brings over 20 years of experience throughout her career in e-commerce, digital, print, custom publishing for B2B and B2C channels, and the travel industry to her current role. Most recently, she served as Head of Strategic Sales, Partner Marketing at Travelport where she was responsible for leading the strategic sales team and delivering partner marketing revenue for their largest travel suppliers.
Prior to that role, Ms. Scheideler was the Vice President Supplier Marketing at Orbitz Worldwide, where she led the Partner Marketing Supplier sales team in exponential growth, and launched brand, marketing and transactional growth strategies for global airlines, hotel chains, tourism, cruise and car rental supplier sectors. Ms. Scheideler achieved multiple awards for driving the highest revenue and volume growth all while while developing sales strategies for online platforms and mobile advertising applications.
Cheryl received her Bachelor of Science in business administration and advertising from the University of Colorado. She is an avid travel, ski, animal, yoga and spa enthusiast, and can be found pursuing bucket list destination endeavors.
ABOUT: Five Star Alliance has been named one of the "Best Travel Web Sites" and is an endorsed member of IATAN, the International Airlines Travel Agent Network. Five Star Alliance is an independent boutique web site that assists travelers find and book the ideal luxury hotel from a collection that currently numbers over 4000 hotels in 193 countries. Consumers find and return to http://www.FiveStarAlliance.com, the only fully comprehensive, editorial website directory of luxury hotels and resorts, for helpful recommendations, exclusive content, competitive rates, exclusive packages and world-class customer service.