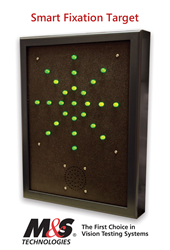 "Customer say... this is the only device that consistently fixates the children."
Niles, IL (PRWEB) September 29, 2014
M&S Technologies, the first name in computerized vision testing systems, has developed a simple but effective device for fixating patients during a pediatric eye exam.
The Smart Fixation Target allows for the eye care professional to successfully conduct an eye exam for children, even those with learning challenges or autism. The product simply plugs into the computer that is running the Smart System PC-Plus software, and is easily accessed through the M&S remote control, illuminated keypad or CustomLink tablet. When engaged, the Smart Fixation Target displays bright LED lights that change patterns while simultaneously playing soothing music. The unit is 10" x 14", weighs 3 lbs. and can be mounted to the wall like an ordinary picture frame.
"We've had a lot of feedback from customers who say that this is their lifesaver, that this is the only device that consistently fixates the children." Joe Marino, President & CEO, M&S Technologies, Inc.
About M&S Technologies:
Founded in 1990, M&S Technologies is a software company specializing in visual testing systems and dedicated to developing the very best products for eye-care professionals, optometry schools and universities, and products used in clinical trials. To date, over 23,000 systems are in use across 39 countries with a growing network that includes 25 distributors and several strategic industry alliances. Superior service, industry-leading technology and products that define the cutting edge have been the hallmarks of M&S for over 20 years.
For more information, please contact:
Carolyn Crabb
Marketing Coordinator
M&S Technologies, Inc.
847-763-0500
ccrabb(at)mstech-eyes(dot)com
#####