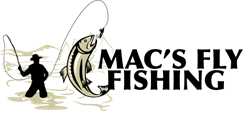 (PRWEB) May 05, 2014
Dennis McDonald is happy to announce the creation and launch of his new website venture, http://www.FlyFishingMadeEasy.com. The website offers a wide variety of fishing products and features fishing information about fishing areas, products, and techniques. McDonald has been fishing for a long time. Ever since he retired, he has spent his time traveling all over the country finding great fishing spots and enjoying many fishing experiences. He was inspired to start his website by his desire to share the information that he has gathered over the recent years and give customers the same joy that he gets from fishing. The website appeals most specifically to people who are interested in traveling to fishing areas and camping in the nearby area.
There are many excellent fishing products featured within the merchandise of FlyFishingMadeEasy.com. The website carries items including Spincast reels, fly fishing rods, fishing books, and more. The website also offers many tips on how to fish and fishing techniques and locations. In the future, McDonald hopes to offer a lot more brands of fishing equipment. He also hopes to provide more fishing guide services that customers can utilize when they're fishing in places they're not familiar with.
Sharing quality information and resources on FlyFishingMadeEasy.com, with the people who enjoy fishing in the same way that he does, is of utmost importance to McDonald. He wants to provide customers with the best information for fishing in the areas that they might want to visit and fish in. By providing information, gear, and services, in one easy to access space, McDonald hopes to make it easy for customers to get everything that they need for fishing.
To complement the main website, McDonald is launching a blog located at http://www.MacsFlyFishingBlog.com. The blog will feature topics related to fishing in general. He plans to cover information on how to fish, where to stay when you're fishing, guides and shops in fishing areas that can help provide information, and information about fishing in certain areas. The blog will act as an additional resource for people to use to make decisions about the gear they might need and the places they might want to fish.
About the Company:
FlyFishingMadeEasy.com, a division of Fly Fishing North America, is owned and operated by Web entrepreneur Dennis McDonald.
****
Dennis McDonald
http://www.FlyFishingMadeEasy.com
(714) 308-0853
iePlexus, Inc.
http://www.iePlexus.com