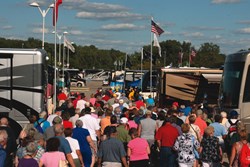 The Alliant Energy Center is a terrific host facility, plus Madison and the surrounding area have so much for motorhome families to do and see.
Cincinnati, OH (PRWEB) January 31, 2014
Family Motor Coach Association is making final preparations for its 89th Family Reunion and Motorhome Showcase, set to take place March 17 to 20, 2014, at the Georgia National Fairgrounds & Agricenter in Perry.
This RV-friendly facility is located just off Interstate 75, a prime north-south route for snowbird RVers.
More than 2,500 motorhome families and some 6,000 to 8,000 people are expected to attend. All RV owners and members of the general public are invited to participate.
Various admission options are available for the Perry event. Activities include an RV show that highlights more than 100 display motorhomes, plus booths filled with every imaginable RV component and accessory, as well as home products; motorhome-related seminars; organized tours of local sites and attractions; evening entertainment; and other social activities.
After the Perry event, it's on to Redmond, Oregon. The Deschutes County Fair & Expo Center in Redmond will host FMCA's second Family Reunion of 2014, August 13 to 16. Registration is under way at FMCA.com.
The Madison, Wisconsin, Family Reunion will take place July 29 to August 1, 2015, at the Alliant Energy Center.
"We had a fantastic event there in August 2011," said FMCA president Charlie Adcock. "We have been looking forward to returning ever since. The Alliant Energy Center is a terrific host facility, plus Madison and the surrounding area have so much for motorhome families to do and see."
FMCA first hosted an event at the site back in 1984 when it was known as the Dane County Exposition Center. Various improvements made since then, including the addition of the 225,000-square-foot Exhibition Hall, have added to the appeal of the facility when it comes to accommodating an FMCA event.
The Madison gathering in 2011 drew a total of 2,143 motorhomes to the site. FMCA officials expect an even better turnout in 2015, given renewed interest in the motorhome lifestyle since the end of the recession.
Prior to the Madison confab, FMCA will make a return visit to Fairplex in Pomona, California, March 26 to 29, 2015, for the 91st Family Reunion and Motorhome Showcase.
To register for upcoming events, or for additional information, visit FMCA.com or call (513) 474-3622 or (800) 543-3622.
ABOUT FAMILY MOTOR COACH ASSOCIATION • Enhancing The Motorhome Lifestyle
Family Motor Coach Association (FMCA) is an international organization for families who own and enjoy the use of self-contained, motorized recreation vehicles known as motorhomes. The association maintains its national headquarters in Cincinnati, Ohio, and currently has nearly 80,000 active member families. FMCA offers its members a number of benefits, including a subscription to its monthly magazine, Family Motor Coaching; trip routing; mail forwarding; group rates on motorhome insurance and an emergency medical evacuation plan; and the Michelin Advantage tire program. Perhaps the most important benefit of FMCA membership is the camaraderie and friendships that develop among people enjoying the common interest of motorhome travel and recreation.