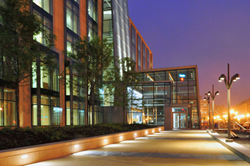 With each new LEED-certified building, we get one step closer to USGBC's vision of a sustainable built environment within a generation
Washington, DC (PRWEB) April 04, 2014
The Thomas P. O'Neill, Jr. Federal Building has recently been awarded LEED® Platinum Certification established by the U.S. Green Building Council and verified by the Green Building Certification Institute (GBCI). LEED is the nation's preeminent program for the design, construction and operation of high performance green buildings.
Designed by Boggs & Partners Architects, The O'Neill Federal Building project is a modernization of an aged 550,300 square foot federal office building just a few blocks from the Capitol in Southwest D.C. The building accommodates nearly 2,000 federal employees with an improved work environment and reduces the use of natural resources. The project involved demolition, base building core and shell work, tenant interior fit-out, and site improvements. The 9-floor (7 above, 2 below grade) building's key features include a large glass-encased entry atrium, a similar central atrium spanning from the basement to roof skylight, a communicating stair from the basement to sixth floor, a green roof and enhanced security features.
"Turner could not be prouder that the Thomas P. O'Neill, Jr. Federal Building has achieved LEED Platinum Certification," said Chris Jahrling, Vice President and General Manager of Turner's Federal Services Group. "It is extremely difficult to achieve this level of sustainability, and requires a great deal of effort from the contractor and architect to develop and implement innovative methods of sustainable design and construction, especially on a renovation project. We are thrilled to deliver this building to the GSA and even more excited that it will provide a healthy atmosphere for the workers that will occupy the facility."
The O'Neill Federal Building achieved LEED Platinum by significantly reducing energy and water use, increasing natural light and ventilation water and by using materials with high recycled content. The intention of a LEED certified building is to save money for taxpayers, reduces the overall building maintenance costs for businesses and creating a healthier indoor work environment. A building that reduces its greenhouse gas emissions and the dependency on infrastructure can contribute to a healthier environment for residents, workers and the larger community.
"With each new LEED-certified building, we get one step closer to USGBC's vision of a sustainable built environment within a generation," said Rick Fedrizzi, President, CEO & Founding Chair, U.S. Green Building Council. "As the newest member of the LEED family of green buildings, The Thomas P. O'Neill, Jr. Federal Building is an important addition to the growing strength of the green building movement."
LEED certification of the O'Neill Federal Building was based on a number of green design and construction features that positively impact the project itself and the broader community. These features include:

Brownfield redevelopment
Alternative transportation including preferred parking for low-emitting vehicles
50% of the site being restored to its natural habitat, building reuse with
95.07% of the existing structural elements (walls, floors, and roofs) being maintained
Water-efficient landscaping
The cutting in of two atriums that allowed for more natural daylighting
The project has diverted 7272.40 tons (93.64%) of on-site generated construction waste from landfill
Energy efficiency measures incorporated into the building design include an improved thermal envelope, high efficiency glazing, reduced interior lighting power density, energy recovery, and high efficiency chillers
The total predicted annual energy consumption for the project is 4,128,693 kWh/year of electricity and 43,387 therms/year of natural gas
About Turner Construction Company
Turner is a North America-based, international construction services company. Founded in 1902 in New York City, Turner has 5,200 employees worldwide and works on 1200 projects each year, for an annual construction volume of $8 billion. As the largest general builder in the United States, Turner ranks first or second in the major market segments of the building construction field, including healthcare, education, sports, commercial, telecommunications, and green building. The firm is a subsidiary of HOCHTIEF, a publicly traded company, and one of the world's leading international construction service providers.
For more information please visit http://www.turnerconstruction.com.
About HOCHTIEF
HOCHTIEF is one of the leading international providers of construction-related services. With more than 80,000 employees and a sales volume of EUR 23.28 billion in FY 2011, the company is represented in all the world's major markets. With its core competencies in development, building and operation, the Group delivers services for the entire life cycle of infrastructure projects, real estate and facilities. The focus of the related business activities is on four strategic areas: energy infrastructure, transportation infrastructure, major cities, and resources. With its subsidiary Leighton (HOCHTIEF share around 54 percent), the Group is market leader in Australia. In the USA, the biggest construction market in the world, HOCHTIEF is the No. 1 general builder via its subsidiary Turner and, with Group company Flatiron, ranks among the most important players in the field of transportation infrastructure construction. Because of its engagement for sustainability, HOCHTIEF has been listed in the Dow Jones Sustainability Indexes since 2006. Further information is available at http://www.hochtief.com/press.
U.S. Green Building Council
The Washington, D.C.-based U.S. Green Building Council is committed to a prosperous and sustainable future for our nation through cost-efficient and energy-saving green buildings. With a community comprising 80 local affiliates, more than 18,000 member companies and organizations, and more than 167,000 LEED Professional Credential holders, USGBC is the driving force of an industry that is projected to contribute $554 billion to the U.S. gross domestic product from 2009-2013. USGBC leads an unlikely diverse constituency of builders and environmentalists, corporations and nonprofit organizations, elected officials and concerned citizens, and teachers and students.
Buildings in the United States are responsible for 39% of CO2 emissions, 40% of energy consumption, 13% water consumption and 15% of GDP per year, making green building a source of significant economic and environmental opportunity. Greater building efficiency can meet 85% of future U.S. demand for energy, and a national commitment to green building has the potential to generate 2.5 million American jobs.
LEED
The U.S. Green Building Council's LEED green building certification system is the foremost program for the design, construction and operation of green buildings. Over 100,000 projects are currently participating in the LEED rating systems, comprising over 8 billion square feet of construction space in all 50 states and 114 countries.
By using less energy, LEED-certified buildings save money for families, businesses and taxpayers; reduce greenhouse gas emissions; and contribute to a healthier environment for residents, workers and the larger community.
USGBC was co-founded by current President and CEO Rick Fedrizzi, who spent 25 years as a Fortune 500 executive. Under his 15-year leadership, the organization has become the preeminent green building, membership, policy, standards, influential, education and research organization in the nation.
For more information, visit http://www.usgbc.org.