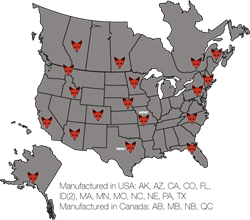 The capacity of our molder network is second to none, and our strategic placement of our plants assures efficient and timely supply of our products to our customers
Omaha, NE (PRWEB) June 11, 2014
Fox Blocks, the fastest growing manufacturer of Insulated Concrete Forms (ICF) in North America, continues expansion of their ICF manufacturing locations to Keller, TX and Nixa, MO- bringing the total to 18 manufacturing points across the US and Canada.
These recent additions follow on the heels of expansion with plants in MN and in PA, all which have been brought online to meet the growing demand for Fox Blocks ICFs. Demand has grown aggressively due to intense ICF market penetration, in addition to the acquisition of two other ICF companies, Reward Wall Systems and ARXX, earlier in the year.
"Adding these two plants reinforces our ability to service large scale heavy commercial jobs, as well as allowing the residential client to gain better access to Fox Blocks ICF. The capacity of our molder network is second to none, and our strategic placement of our plants assures efficient and timely supply of our products to our customers," says Mike Kennaw, Vice President of Sales.
"The Texas plant has been a long time coming, as the market potential is enormous. We are now the only ICF company manufacturing there. This allows for Fox Blocks products right in the heart of the Texas, made by Texans for Texans."
The new Fox Blocks manufacturing locations, with Foam Fabricators in Keller, TX and Diversified Plastics in Nixa, MO, are now in Pre-production testing and have received dedicated tooling and are undergoing extensive on-site QA/QC testing and training. The Keller, TX plant is expected to be online producing ICFs by July with Nixa, MO slated for end of June.
The combination of tooling, production efficiencies and an industry leading quality control program ensures the delivery of a premium Fox Blocks quality industrial strength ICF.
Fox Blocks now manufactures ICFs in 18 locations including Omaha, NE; Nazareth, PA; Becker, MN; Orlando, FL; Northbridge, MA; Post Falls, ID; Jerome, ID; McFarland, CA; Phoenix, AZ; Colorado Springs, CO; Cherryville, NC; Anchorage, AK; Keller, TX; Nixa, MO; Montreal, QC; Starbuck, MB; Ponoka, AB; Cap Pele, NB.
About Fox Blocks
Fox Blocks is a leader in developing and manufacturing Industrial Strength Insulated Concrete Forms (ICF). As the fastest growing manufacturer in North America, Fox Blocks is known best for its ease of use, product engineering and speed of construction. Fox Blocks are manufactured regionally across the US and Canada and backed by the Airlite Plastics Company, a privately held company, with more than 60 years of high-end plastic and EPS foam product manufacturing experience. Fox Blocks provides a complete range of products used in commercial and residential construction. Fox Blocks has produced over 45 million square feet of ICF wall surface for the construction industry. For more information please visit http://www.foxblocks.com.