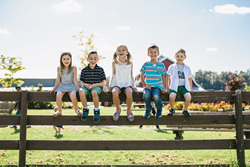 Celebrate local, artisan farmers by taking part in the newly created "Fraser Valley Farm Loop."
Vancouver, British Columbia (PRWEB) November 28, 2014
As the home of the original 100-mile diet, the Vancouver, Coast & Mountains Region of British Columbia is the agricultural hub of the province, and as a result there are more than a few good places to find fresh local produce in the Fraser Valley. The communities of Langley, Abbotsford, Chilliwack and Maple Ridge are home to literally thousands of farms producing everything from horticulture, fresh fruit and vegetables to poultry, meat, eggs and dairy products. Visit one-of-a-kind farm gate shops, open air markets and much more on this Fraser Valley inspired itinerary.
1. JD Farms –Specialty Turkey Store and Bistro - The Turkeys at JD Farms are fed a natural diet of grain, vitamins and minerals without any medications or animal by-products. Shop at the store or enjoy a freshly made meal at their onsite bistro. The turkey pot pie is a must try!
2. Bakerview EcoDairy - Discover the science of farming at Science world's first permanent satellite facility. Located in Abbotsford on 80 acres of lush farmland, this a one-of-a-kind demonstration farm boasts many incredible interactive exhibits to satisfy your curiosity on the inner workings of a dairy farm while educating the public on where their food comes from while inspiring the next generation to pursue a career in agriculture, science or technology.
3. Greendale Pottery & Country Guesthouse - A beautiful location for a relaxing getaway with friends, a romantic retreat, and even a little outdoor adventure. The Mckeen family have created a peaceful retreat but also raise and sell home grown organic/naturally-raised beef by the side, mixed quarter or freezer pack. They are in high demand so call and pre order.
4. Lepp Farm Market - Looking for a special place with local meats, seasonal produce, sauces, and condiments made by local artisan producers. With the best locally grown, antibiotic free meats, produce and gourmet products, all in one family-run shop, Lepp Farm Market is the place to you.
5. Hopcott Premium Meats - This third generation family run butch shop is located on a family farm in nearby Maple Ridge. The family is committed to bringing quality, local, and farm fresh products directly to your table. From no added hormone or steroid beef, to their locally grown produce, to their specialty grocery selection, let this friendly team help you make healthier choices.
6. Krause Berry Farms & Estate Winery - Pick up some delicious frozen berry pies or berry perogies, mouth-watering waffles, freshly baked berry shortcakes, fruit filled scones, preserves and much more. For the kids there's a play area and a small petting zoo. For adults, a winery with fruit and dessert wines.
For more tips on planning a decadent foodie adventure in Vancouver, Coast & Mountains, visit the region's travel inspiration website – 604pulse.com.
604Pulse.com is the official blog of the Vancouver, Coast & Mountains Tourism Region and is dedicated to exploring all the things to see and do in the region to share with visitors. This fall we're featuring a number of culinary inspired itineraries that will help you plan your next foodie adventure. Check out http://604pulse.com/featured-itineraries/ to learn more.
About Vancouver, Coast & Mountains: Vancouver, Coast & Mountains, one of six tourism regions of Super, Natural British Columbia, includes four destination areas: Metro Vancouver, Sea to Sky Country, Mighty Fraser Country, and the Sunshine Coast. This non-profit society is governed by a private sector board of directors who represent business and community tourism interests from throughout the region. VCMBC works with Tourism British Columbia to utilize their combined resources and provide greater benefits to the provincial tourism industry through an integrated web presence. For more information about Vancouver, Coast & Mountains visit our website or call 604-739-9011.