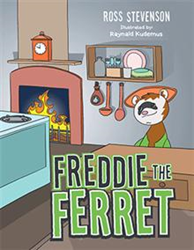 (PRWEB) July 02, 2014
Throughout the world the ferret has been considered a symbol of resourcefulness and survival. Indeed in both Asian and European cultures the ferret has been used to kill other vermin such as rats, and to round up rabbits for the hunt. In "Freddie the Ferret" author Ross Stevenson has created a clever and lovable character in Freddie, a clever ferret who has to outsmart a young upstart hound dog named Herbert.
The book follows the clever young ferret named Freddie who only wants to live life in peace and quiet. In order to do this Freddie works hard to furnish his home with comfortable things and rid the area of unwanted filth and vermin. Soon Freddie's house looks quite nice and seems ready for him to move in and even start a family. That is until a big problem comes ambling in the form of Herbert the Hound, a young, naïve hunting dog who wishes to prove his worth to his fellows at the hunting dog school. Being the cautious and inquisitive creature he is Freddie approaches Herbert and asks him what he was looking for. The response alarms Freddie when he finds out that Herbert was hunting for a ferret to show off to his friends. Not wanting to be someone else's chew toy or trophy Freddie must now think up a clever way for him to avoid such a gruesome and humiliating fate.
This book boasts of beautifully drawn illustrations and a cast of lovable and relatable characters. "Freddie the Ferret" is a great way for kids to develop the love for reading while looking at great art.
For more information on this book, log on to http://www.Xlibris.co.nz.
About the Author
Ross Stevenson was born and raised in Nelson, New Zealand, and has enjoyed a career in accounting for many years. Life in a sleepy hollow can have its drawbacks, but having been lucky enough to travel occasionally, he realizes on a regular basis that home is truly paradise. Poetry has been a part time thing for the author, and yet he has recently been writing a lot more, particularly observational poetry, but also poems that would appeal to the younger generation. His first foray into the published final product is two story books which he hopes children will enjoy. He has been working on several more which so far have had good reviews. He is married and has two adult children, both of whom have been most encouraging of their 'old man's' new hobby. This level of respect though seems to stop as they enter the golf course for the odd father son battle. His other hobbies apart from poetry and golf include gardening, travel, family history and observing life and people.
Freddie the Ferret* by Ross Stevenson
Publication Date: September 20, 2013
Picture Book; $33.19; 44 pages; 978-1-4836-9919-6
e-book; $3.31; 978-1-4836-9920-2
Members of the media who wish to review this book may request a complimentary paperback copy by contacting the publisher at 0800-443-678. To purchase copies of the book for resale, please fax Xlibris at (09) 353-1455 or call 0800-443-678.
For more information, contact Xlibris at 0800-443-678 or on the web at Xlibris.co.nz.