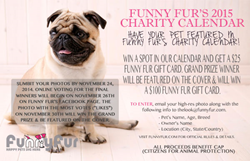 Houston, Texas (PRWEB) November 05, 2014
Everyone loves seeing their pet's photos in print publication and for sale. Who doesn't think their pet is the best looking? From furry pups and cuddly kittens, to feathered friends or elegant equines, pets can find a spot in Funny Fur's upcoming charity calendar.
All pet parents are invited to send in their high-resolution photos for a chance to see their pet's photo in the calendar and win a $25 gift card to Funny Fur. The Grand Prize winner will be featured on the cover and will win a $100.00 gift card to Funny Fur. Sales of the charity calendar will help raise money for Citizens for Animal Protection (CAP), a local Houston animal shelter and adoption center.
To Enter, email the hi-res photo along with the following information to: thelook@funnyfur.com.

Pet's Name, Age and Breed
Name of Pet Guardian/Parent
Location (City, State or Country)
Contest Rules:

Photo must high resolution with a minimum size of 1800 pixels wide (6 inches)
One entry per animal (One entry/photo with multiple pets or multiple single-pet entry photos)
Entrant must be 18 years or older
Entrant must own the rights to the photo
Entrant must allow Funny Fur and CAP to use the photo(s) on their websites, promotional materials or social media pages
Gift Cards to Funny Fur are not redeemable for cash ($0 Cash Value) or any other type of exchange other than for Funny Fur merchandise
Deadline for submissions is November 24, 2014, at 11:59 pm Central Time
Photos must be entered by November 24, 2014, for a chance to win. Online voting for the final winners will begin on November 26, 2014, on Funny Fur's Facebook page (http://www.facebook.com/funnyfur). Funny Fur will announce voting via Newsletter, Facebook and Twitter. Those who wish to vote must have a Facebook account to vote. The photo with the most votes ("Likes") on November 30, 2014, will win the grand prize and be featured on the cover of the calendar.
100% of proceeds from the sale of the calendar will benefit CAP and their animal welfare programs.
The calendars will be sold online at Funnyfur.com and at the Funny Fur River Oaks store on 3268 Westheimer, Houston, TX 77098 as well as at CAP, 17555 Katy Frwy., Houston, TX 777094.
The calendar will be available for purchase the second week in December and will be a hit during the holidays as a gift for any pet lover.
Funny Fur supports local animal welfare organizations and non-profits with in-store pet adoptions as well as educational and fundraising events. Please visit http://www.funnyfur.com, Funny Fur's River Oaks store Facebook page, or subscribe to their store newsletter for a full schedule of upcoming events.
About Funny Fur
Funny Fur is a premier pet supply store and pet boutique specializing in designer dog clothes, dog carriers, and other pet accessories for discriminating pet parents. Funny Fur also offers a great selection of all natural and holistic pet foods and treats, raw pet food, and all natural solutions for general household and pet care products. Funny Fur contributes to local animal rescues and other non-profit organizations dedicated to the wellness of animals.
About Citizens For Animal Protection
Citizens for Animal Protection is a 501-c-3 non-profit organization founded in 1972 for benevolent, charitable and educational purposes for the protection of homeless animals. CAP shelters, rescues and places animals in loving homes, relieves animal suffering and provides humane education. The true success of the organization is the focus on the individual animal. CAP strives to make the public aware of the tragedy of the pet overpopulation crises through education and advise them that it is the responsibility of each and every individual to see that their pet is spayed or neutered and protected from harm for its lifetime.