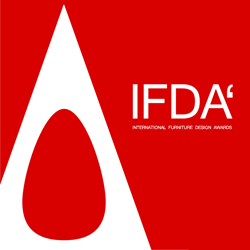 Furniture design award winners are promised fame, prestige, recognition and publicity.
Como, Italy (PRWEB) January 22, 2014
The A' (A-Prime) International Furniture Design Award is calling for entries of furniture designs and products from worldwide manufacturers and designers.
All entries will be evaluated by an international jury panel of 50 experts. The A' Design Award jury is composed of experienced academics, world renown design professionals and prominent media members to judge each entry from different perspectives. Results of the furniture design accolades will be announced on April 15, 2014.
Entries to the furniture design award will be accepted in the following categories: Furniture Design, Houseware Design, Decorative Items Design, Tableware Design, Outdoor Furniture Design, Street Furniture Design and Contract Furniture Design. Nominated furniture designs will be voted on evaluation criteria and aspects such as visual appeal, ergonomics, degree of innovation, overall design quality, micro details, craftsmanship and workmanship, choice of materials, eco-sustainability and functionality.
The furniture design awards is open to all furniture designers and furniture manufacturers worldwide, both realized and concept-stage entries could be submitted. Entries submitted should be designed in the last ten years. The entry procedure must be completed by February 28, 2014. Details and guidelines of the accolades is available at designaward.com.
A' International Furniture Design Award winners will be presented in the annual yearbook, will receive the award trophy, certificate and will be invited to the exclusive gala-night for networking with other winners, media members, interior designers and architects. Award winners will also be able to use the "Award Winning Design" logo in their communications and marketing.
Award winning furniture designs will also receive a special public relations campaign and provided space at the A' Design Award Exhibition in Italy. Best furniture designs will be communicated to thousands of design media members. The A' Design Award promises fame, prestige, publicity, recognition and international brand awareness for the award winning furniture designs.
About A' Furniture Design Award
The aim of the A' Furniture Design Award is to create publicity, PR push and advertisement opportunities for the award winning furniture designs while supporting the global design culture, creating incentives for furniture manufacturers to come up with superior designs for a better and healthier future. A' Design Award is organized in hundreds of design categories, for an in-depth presentation, visit http://www.whatisadesignaward.com.