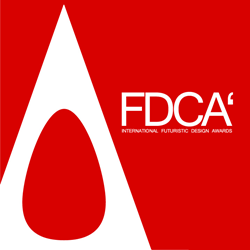 A' Design Award & Competition is looking for Designers who could foresee future trends and technologies.
Como, Italy (PRWEB) February 10, 2014
A' Design Award & Competition has launched its 4th Annual International Futuristic Design Competition & Awards (FDCA). The Futuristic Design Competition is open to all design and architecture professionals, design teams, students and upcoming talents worldwide. FDCA is expected to show us a preview of middle and long-term future possibilities since it is a design competition that is open only to future concept designs; i.e. designs that cannot be realized with today's technology or materials. The ideas entered must not have the potential to be made, built, or otherwise realized within near future.
Professionals, students and design groups can submit futuristic design concepts online to a judging committee of 50 prominent designers, architects, scholars and press members who will select design finalists and winners by blind-voting and peer-reviewing. Entries will be voted on criteria such as advanced features, innovative materials, new technologies, flexibility, transformation and effectiveness. There are no restrictions for the theme of entries, as long as they are related to future concepts; entries could be for futuristic spatial design, futuristic product design, futuristic communication design or futuristic interaction design.
The best submissions are published on the Design Magazine web site and will be promoted in social media, as well as traditional design magazines and world's largest online publications offering the entrants an opportunity to reach a global audience. Entries will be translated to 20+ languages to truly reach international audiences. A' Design Awards gives young, talented designers a platform to showcase their work to the world and a chance to get jobs and business opportunities in the design field. The winners will also receive the A' Design Prize which includes the metal trophy, award certificate, best designs annual, online + offline exhibition and invitation to the award ceremony and gala night in Italy.
Entries to the competition can be made online at http://www.adesignaward.com by registering and uploading works. Further guidelines for entry and presentation can be downloaded after registration. Entries to the competition will be accepted till Friday, February 28, 2014 by 23:59 GMT+1 and the results of the competition will be announced on April 15, 2014.
About the Futuristic Design Awards 2014
The A' Futuristic Design Award and Competition is a very unique design accolade that aims to ignite future thinking in creatives by challenging the international design community to implement forward-thinking scenarios, depictions and possibilities into their designs. The result of the Futuristic Design Competition is expected to convey future trends and technological possibilities that are likely to come true in the middle and long-term future. Learn more about the accolades at http://www.whatisadesignaward.com