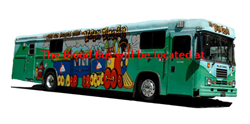 Give the gift of life!
Dalton, GA (PRWEB) March 20, 2014
Georgia Carpet Industries is holding their first blood drive on March 31 from 8 a.m. to 2:30 p.m. The drive is being performed by Blood Assurance and will take place on the Blood Bus in the parking lot of Georgia Carpet Industries. This is located at 3050 North Dug Gap Road, Dalton, GA 30720.
Not only is this Georgia Carpet Industries' first drive, it is also the only local blood bank in the Dalton, Ga. and Chattanooga, Tenn. areas. Refreshments will be provided to anyone who donates blood throughout the day. Participants will also receive a free t-shirt, and will be entered into a same-day drawing for a $20 prepaid credit card. They will also be entered into a drawing that will take place at the end of the month for Beats by Dr. Dre headphones.
If anyone would like to partner with Georgia Carpet Industries to give the gift of life, they can sign up at georgiacarpet.com/blood-drive. There is also a Facebook page participants can like at facebook.com/georgiacarpetblooddrive and invite their friends in the area to participate also.
Georgia Carpet Industries has been American-owned since 1969. They specialize in flooring of all types, including carpet, hardwood, laminate, vinyl and rugs. There are three locations in Dalton, each staffed with qualified sales associates ready to go above and beyond to help their customers. Not only do they want to help people make their homes beautiful, they also want to partner with their community to make a difference in people's lives in Dalton and Chattanooga.
For more information about Georgia Carpet Industries, check out their website at georgiacarpet.com.