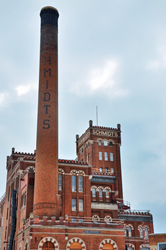 We are thrilled to bring our traditional Bavarian varieties to this historic site. The Schmidt Brewery produced beer for 140 years – it's the perfect place to celebrate German heritage.
Saint Paul, Minn. (PRWEB) May 22, 2014
On June 21-22, 2014, the first annual GermanFest will be held at the Historic Schmidt Brewery, located on West 7th Street in St. Paul, Minn. This free, family-friendly festival will provide a fun and memorable experience for all ages through food, music, art, and education.
FILO Productions and the Fort Road Federation are partnering to bring this inaugural event into the community of St. Paul – where one-third of the city population is of German ancestry. This two-day celebration expects to attract 20,000 people. It will feature many aspects that make up German culture and bring a rich selection of activities, German food and drink, and reflections of history into a family and kid-friendly event.
"There is so much more to German culture than what you see at a typical Oktoberfest event," said Kevin Weinhandl, President and CEO of FILO Productions. "We felt that other events focus so heavily on the food and beer that the beautiful art and rich history are often overlooked. As someone who grew up in St. Paul's West End, I'm proud to bring the neighborhood together at the first annual GermanFest."
Those in attendance can participate in a number of free historic tours and lectures including a walking tour of the Schmidt Brewery neighborhood, a presentation on German lager beer, and a bus tour of German brewery sites and the homes of German brewers. In addition, two stages will have live music and kids entertainment throughout the weekend.
"We are thrilled to bring our traditional Bavarian varieties to this historic site. The Schmidt Brewery produced beer for 140 years – it's the perfect place to celebrate German heritage," said Joe Goodin of Paulaner USA. "We'll have plenty of delicious German beers on tap to pair with the food, music and dancing."
Event activities will include:

Live music: Bavarian Musikmeisters, Edelweiss Dancers, Brewhaus Polka Kings and more
Cuisine: Black Forest Inn, Grand Ole Creamery, Shamrock's and food trucks
German beverages: Paulaner – 6 varieties, Schells – 4 varieties; Claddah Coffee
World Cup Soccer: Germany vs. Ghana and USA vs. Portugal viewing parties
Activities: Nagelspielen – the nail game, barrel races, and dachshund races
Family Stage: Magic shows, storytelling and live animals
Tours: Schmidt Brewery, Germans Churches, German Lager lecture and more
The event will run 10am – 10pm on Saturday, June 21, and 10am – 7pm on Sunday, June 22 at the recently renovated Schmidt Brewery, 882 7th St W, St. Paul, MN 55102. Admission and parking will be free all weekend.
Sponsors to date include Paulaner, Schell's Beer, Visit Saint Paul, BankCherokee, The Growler, Vine Park Brewing Company, Big Top Wine & Spirits, Peter Hill Design, and K-TWIN 96.3.
For complete event details, visit http://www.germanfestmn.org.
About FILO Productions
Since 2001, FILO Productions, Inc. has been creating world class sporting and other events that help companies promote their brand. Their events range from unique large-scale events for sports fans to small charity and local festival events. FILO's enables clients to promote their product and align their brand with memorable experiences that create a lasting impression for their customers.
Visit http://www.filoproductions.com/ for more information.
About Fort Road Federation
The Fort Road Federation, also referred to as the West Seventh Street Federation, was formed in 1973 to unite neighbors, local businesses and organizations for the purpose of solving issues impacting the vitality and livability to the community. The Schmidt Brewery's historic Rathskeller and keg house are owned by the Federation. The Fort Road Federation is the District 9 Council, representing the West 7th Street neighborhood, from Downtown Saint Paul to 35E, and south/west along West 7th Street to Homer Street.
Visit http://www.fortroadfederation.org/ for more information.