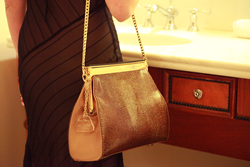 We are so proud to be selling in Europe and hope that trend continues.
New York, NY (PRWEB) February 27, 2014
2014 continues to bring the public eye the first designer handbags with a patented integrated lighting system. The light system allows the contents of the designer handbag to be seen easily in low light and dark conditions. The patented system includes an automatic switch, open the handbag and the light turns on, close the handbag and the light turns off. Glass Handbag introduced the handbag with the light panel built inside in late 2011. The luxury designer handbags are custom designed by the CEO, Tamara Leuty.
The fashion handbags recently had an exposure in the newly released Sony Pictures movie, About Last Night (2014), by director, Steve Pink with actors including Kevin Hart, Michael Ealy, and Regina Hall. The handbags were previously seen on popular national programs Wendy Williams and Steve Harvey, both syndicated daytime talk shows.
The designer handbags are also being promoted by a professional sales team in Germany to distribute the lighted handbags throughout Europe. European patents are already in the works and the company expects to do well in the foreign market. The founder, Tamara Leuty, says "We are so proud to be selling in Europe and hope that trend continues."
The founder is a world traveler with high fashion knowledge who set out to create the "see inside" handbag that combines function with style. Visit http://www.glasshandbag.com to see the latest styles.