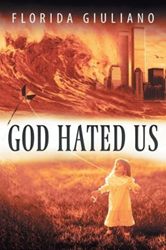 Johannesburg, South Africa (PRWEB) July 22, 2014
The ETgods regarded humans as merely pawns in their greater schemes – a failed experiment after attempting to uplift their creation to no avail. Alien DNA spawned humans, delivering alien species on Earth. God is an extra-terrestrial and in his image, we are created. Humans were designed as slave labor, given a short life span, and a severely stunted genetic code. We carry within, encoded traits of violence, greed, rivalry, amongst others. Due to inherited tendencies, humans have not basically changed. There will always be wars as we respond to programmed patterns beyond our control – perpetuating the same genetic codes, history will keep repeating itself.
The Atlanteans were caught up in materialism, military domination, and violence, drifting away from nature, from the inner spirit – they became lost to themselves. The might of Atlantis perished and sunk. The demise of the island of Atlantis triggered a threat of destruction.
"God Hated Us" follows Michael, one of the intergalactic explorers who falls in love with Ondina, an earthling woman. His story bears witness to how people from differing worlds can discover common values. Michael is part of us, what is most noble in ourselves.
In a brave new era, the gods have left, our creators are gone. They will not return. Who will now save us from ourselves? Encoded in our genes is the supreme need for a god, in whatever form it may be envisaged. We are compelled to seek for god, our need caused by a flaw within ourselves. The searching, the yearning, will go on, like the never changing themes of life.
Set against the background of a civilization in decline, will love find a way to survive? 'God Hated Us' grabs readers from page one and does not let go until its stunning conclusion.
For more information on this book, interested parties may log on to XlibrisPublishing.co.uk
God Hated Us* by Florida Giuliano
Publication Date: December 3, 2013
Trade Paperback; £13.99; 268 pages; 9781493144129
Trade Hardback; £23.99; 268 pages; 9781493144136
e-book; £3.99; 9781493144143
Members of the media who wish to review this book may request a complimentary paperback copy by contacting Xlibris Marketing Services at 800-056-3182.