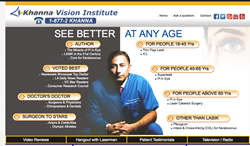 Interactive visual learning is best
Beverly Hills, Ca (PRWEB) November 30, 2014
Khanna Vision Institute is pleased to deploy a new interactive website for vision. This new concept website guides patients based on their age and lifestyle. They can select age appropriate latest therapies available. It finally answers the question, 'what is best for me?' This helps avoid reading through a lot of content and getting confused.
The easy to navigate website has a lot of genuine content written in simple language. When one gets tired of reading they can learn from videos of previous patients or old episodes of hangout with laser man.
If doubts still persist one can pose the question on 'Hangout with Laserman'. This is a complementary way for people around the world to have a virtual consult utilizing the power of google hangout.
"This helps overcome lack of authenticity which has placed the content on internet," says Dr. Khanna. This show is hosted every Wednesday noon pacific time. If you are camera shy you send your queries through email.
There are new modalities to learn. These include crossword puzzles and quizzes on vision. There is an interesting video games to strengthen eye hand mind coordination while overcoming the boredom of learning. These innovative features have been clubbed under the title Igames.
The easy-to-navigate website is currently available to help people learn about eye disorders, procedures, and anterior segment procedures. It has been well received by people around the world especially in United States. The new website and all its features can be found at http://www.khannainstitute.com.
About Khanna Vision Institute
Khanna Vision Institute (KVI) specializes in vision care surgery. It is based in Beverly Hills. Medical Director of KIV is Board Certified eye surgeon Rajesh Khanna, MD. He is also the author of three books on vision including the well reviewed "The miracle of Pi in Eye". Dr. Khanna also hosts 'Medical Magic' on first run TV and 'Hangout with Laserman'. His philanthropy work includes support for Wounded Warriors and Impact.