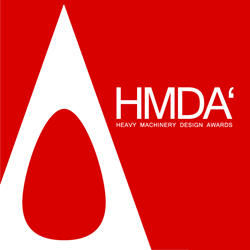 Best heavy equipment and machinery designs will be highlighted.
Como, Italy (PRWEB) February 25, 2014
A' Design Award & Competition has announced the last call for entries to International Heavy Machinery Design Awards (HMDA) 2014. The International Heavy Machinery Design Awards are especially open for entries of heavy equipment and heavy-duty vehicles that were specially designed for executing construction tasks or earthwork operations. Manufacturers of heavy machines, heavy trucks, construction equipment, engineering equipment, heavy vehicles, and heavy hydraulics worldwide are invited to take part in the HDMA accolades by entering their most powerful and advanced machinery.
It is a tremendous honor for any heavy machinery producer to receive the prestigious and highly respected A' Design Award for Heavy Machinery Design since entries are peer reviewed and blind judged by a 50-person international jury panel of academics, press members and design professionals. Entries to the International Heavy Machinery Design Awards are judged based on evaluation criteria such as ergonomics, visual appeal, additional functionality, mechanical advantage, performance and capacity as well as social aspects such as sustainability.
Award winning heavy machinery designs are highly appreciated as leading-edge products which demonstrate the latest trends in design and technology. To celebrate the status of winning the accolades, Heavy Machinery Design Award laureates will be given a special award prize which includes lifetime licensing of the "award winner" logo in addition to a special PR campaign to reach press members in all countries. The PR Campaign includes press release preparation and distribution as well as translation of the award winning project to more than twenty languages for true international reach.
Laureates will also receive the design award trophy, certificate, yearbook, online and offline exhibition as well as invitation to the A' Design Awards' Gala-Night and Award Ceremony in Italy on August 9, 2014. Entries will be accepted till February 28, 2014, and results will be announced on April 15, 2014. Further entry details including a downloadable entry form, category criteria, submission details and entry fees regarding the International Heavy Machinery Design Awards can be found by visiting: http://www.adesignaward.com.
About the International Heavy Machinery Design Awards
The International Heavy Machinery Design Awards, established by the A' Design Award & Competition, aims to promote and help develop heavy industry products worldwide that are not only visually appealing but also demonstrate additional functionality whilst offering increased economy and flexibility for users. The accolades also gives great importance and recognition to products that are sustainable and durable.
About the A' Design Award & Competition
A' Design Award & Competition is an annual juried international design award and competition that aims to spotlight good product designs that contribute to society by improving the quality of life of users worldwide. The A' Design Accolades are organized under hundred different design categories and disciplines, aiming to create an incentive for designers and companies in all industries to develop superior products. Learn more about the A' Awards at http://www.whatisadesignaward.com.