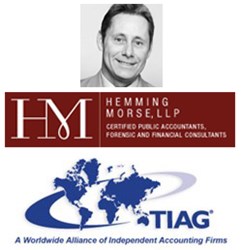 The global reach of TIAG, and its sister organization TAGLaw, has enabled Hemming Morse to better serve our clients...
St. Petersburg, FL (PRWEB) January 22, 2014
The international alliance of independent accounting firms, TIAG®, recently appointed two new Advisory Board members. Among those is Dan Ray, a Partner in the Forensic and Financial Consulting Services Group at Hemming Morse in San Francisco. As a Certified Public Accountant, Certified Fraud Examiner, and former Special Agent for the Federal Bureau of Investigation, Dan has conducted financial investigations since 1982 and served as an FCPA Compliance Monitor on behalf of the U.S. Department of Justice and the Securities and Exchange Commission on two separate occasions.
The charge of the Advisory Board includes assisting TIAG's management in reviewing prospective new members, offering feedback for the planning of international conferences and providing valuable guidance on future plans and initiatives. The Advisory Board holds board meetings at TIAG's semi-annual international conferences in addition to regular teleconferences.
"The global reach of TIAG, and its sister organization TAGLaw, has enabled Hemming Morse to better serve our clients," said Dan. "As a California-based forensic accounting firm, our work is national and international in its scope. The TIAG organization provides the geographic coverage we need. I am honored to serve on the Advisory Board, and I look forward to building relationships and helping to grow the organization."
"Board members have to be experienced in the practice of accounting, knowledgeable about TIAG and sophisticated in their understanding of the global economy, said Robert Sattin, President of TIAG. We're thrilled to have Dan lending his insight and perspective."
Additional Advisory Board members include:

Kurt Baker; Einfeld Symonds Vince (Sydney, Australia)
Dr. Kay Jess; GGV Grützmacher / Gravert / Viegener (Hamburg, Germany)
Barry Nijkamp; Van Elderen Accountants (The Netherlands)
Felipe Pestana; Grupo Planus (Rio de Janeiro, Brazil)
Norman P. Posner; Samet & Company (Massachusetts, USA)
Ronald Storch; Berdon LLP (New York, New York, USA)
Howard Wilkinson; Retired Managing Partner of Mercer & Hole (London, England)
About TIAG and The TAG Alliances™
The TAG Alliances comprise three groups: TIAG (The International Accounting Group), TAGLaw and TAG-SP. TIAG is an international alliance of high quality, independent accounting firms. TAGLaw is a similar alliance of independent law firms, and TAG-SP is a complementary association of strategic business partners. Collectively, the TAG Alliances provide accounting, legal, financial and business support services on a worldwide scale. With approximately 14,000 professionals in 250 member firms, and 500 offices in over 90 countries, The TAG Alliances serve tens of thousands of clients from all industry and commercial sectors.
For more information about TIAG, visit http://www.TIAGnet.com.
For more information about the TAG Alliances, visit http://www.TAGAlliances.com.
TIAG and TAG Alliances Media Contact
Chris Cervellera, Director of Marketing
ccervellera(at)TIAGnet(dot)com
+ 1 727 895 3720
About Hemming Morse LLP
Founded in 1958, Hemming Morse, LLP is one of the nation's leading and most respected accounting firms. The strategic focus of the firms practice comprises two areas of expertise: Forensic and Financial Consulting Services and Financial and Compliance Auditing of Employee Benefit Plans. Based in California with approximately 100 employees, Hemming Morse handles complex and high-profile assignments that are local, regional, national and international in their scope. For more information about Hemming Morse, visit http://www.hemming.com.