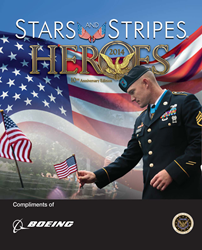 'Heroes' is a salute to the honor and dedication of our military men and women.
Washington, DC (PRWEB) June 11, 2014
Members of the U.S. Armed Forces come from every part of America and even from other countries. Less than one-half of one percent of the nation's population serves in today's military, and yet this unique population represents the diversity of race, religion, ethnicity and profession that makes America great. If their numbers are few, their tasks are plentiful and the risks they face are great. These young military men and women, who ignore their own peril to save others from harm, consider their actions commonplace — but to everyone else they are no less than extraordinary.
These remarkable recipients of medals for valor are the subject of "Heroes," published by Stars and Stripes, the military's independent source for news and information, in partnership with the Congressional Medal of Honor Foundation and The Boeing Company. Now in its tenth edition, "Heroes" begins distribution of more than 1.7 million copies on June 12th in honor of the many soldiers, sailors, airmen and Marines who have been recognized for valor in Iraq and Afghanistan.
"By telling some of the tales of extraordinary valor by a few of America's warriors, 'Heroes' seeks to thank and honor all those who serve, and their families, who routinely demonstrate uncommon courage and make painful sacrifices to protect the rest of us and our way of life.," said Terry Leonard, Stars and Stripes editorial director.
Publisher Max D. Lederer Jr., said, ''Heroes' honors the courage and sacrifice of all who serve not just those whom Stars and Stripes has highlighted. All members of the service sacrifice and suffer hardships as part of their service. The individuals who are honored in this publication have committed extraordinary acts for all of us to be proud of and to pay tribute to. Stars and Stripes is privileged to continue telling a few stories of the many who serve with remarkable courage and a degree of self-sacrifice few of us will ever know.
"In partnership with the Congressional Medal of Honor Foundation, Stars and Stripes 'Heroes' relates the experience of a few warfighters, who stand as surrogates for thousands of others whose valor is equally inspiring. It is important that all Americans understand the daily sacrifice of our men and women. By telling the story of the U.S. military, Stars and Stripes helps to ensure these brave men and women will not be forgotten. 'Heroes' is a salute to the honor and dedication of our military men and women," Lederer continued.
"Heroes" was published overseas in the Stars and Stripes newspapers distributed in Europe, Pacific, Middle East and Southwest Asia on June 12. Thanks to support from The Boeing Company, "Heroes" will then be distributed through military base newspapers in the United States, to Department of Defense schools and in the Chicago Tribune. Delivery to key outlets in the nation's capital will include the Pentagon, Capitol Hill (where House and Senate members will receive a number of hand-delivered copies); throughout the K Street "power corridor" and business community, on military bases in the DC Metro area, and in The Washington Post.
Following its publication in print, additional multimedia content and an enhanced version of "Heroes" will be available online at the Stars and Stripes Heroes website, http://www.stripes.com/heroes.
__________________
About Stars and Stripes
Stars and Stripes reports on military matters to the global U.S. military community. It is the only independent source for news and information operating from inside the U.S. Department of Defense. Editorially independent of any outside interference and influence, Stars and Stripes provides commercially available U.S. and world news and objective, factual staff-produced stories relevant to the military community it serves.
In addition to providing news in print, Stars and Stripes offers its unique reporting on stripes.com, through its mobile apps and through subscription to free email newsletters.