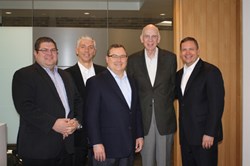 At Hero Partners our mission is to develop great entrepreneurs who will build transformational companies.
Salt Lake City, UT (PRWEB) January 15, 2014
Hero Partners Chairman Robert Ryan announced today that Bennett Group, a business and government consultancy chaired by former US Senator Bob Bennett (R-Utah) has become a partner in Hero Partners.
"At Hero Partners our mission is to develop great entrepreneurs who will build transformational companies," said Mr. Ryan. "Bob Bennett has been committed to this same vision his entire career, from his days as an entrepreneur and CEO, to his Senate career where he was a consistent champion of government policies that enhance, rather than hinder the business environment," Mr. Ryan added.
Ryan noted that Senator Bennett, prior to his government service, was the founding CEO of Franklin Quest (later Franklin Covey), where he grew the company from four employees to over 1000 and a listing on the New York Stock Exchange. "Bob and his team of seasoned professionals will enhance our ability to accelerate the growth of our portfolio companies and give them every opportunity to succeed," Ryan said.
Mr. Ryan is a technology pioneer and recognized Silicon Valley giant. During the 1990's, his company, Ascend Communications provided a cost effective connectivity infrastructure that made rapid growth of the Internet possible. Ascend was ultimately sold to Lucent Technologies for an estimated $24 billion. Since that time, Mr. Ryan has helped build several start-up and early stage ventures into multi-billion dollar companies.
Senator Bennett commented, "Entrepreneurship is the backbone of America's economic strength and vitality. Since leaving the US Senate, I have found that helping young business leaders be successful is one of the truly meaningful ways that I can make a difference. I am delighted to be joining forces with the Hero Partners team and Rob Ryan, a visionary and one of America's truly great entrepreneurs."
Justin Hyde, Hero Partners Co-CEO said that the firm works with entrepreneurs who have the core competencies to build truly transformative companies. "Hero Companies have the ability to transform industries through innovation, disruption and superior execution, and thereby transform communities through job creation and increased economic activity." He noted that Hero Partners is very selective about the companies they work with and only take on those that have true "Hero" potential. "We help companies identify their unique strengths and competitive advantages and then we deploy our resources – our expertise and our network of high level contacts – to greatly accelerate the growth of a company." Hyde noted that, "getting to market sooner with a superior technology or product is an enormous competitive advantage that gives our entrepreneurs an accelerated path to success. Combining the Hero Partners and Bennett competencies and networks will greatly enhance that competitive advantage."
Tyler Norton, Hero Partners Co-CEO said, "the 'Hero Process' begins with a two-day 'Hero Retreat', where entrepreneurs and business leaders have the opportunity to work with our team to determine and evaluate the company's core competencies and identify market opportunities that flow from those competencies. Following a retreat, some companies may be invited to become Hero Companies."
Bennett Group was founded in 2011 by Senator Bennett, John Baird, and Greg Hopkins. The three partners have a long relationship working together in many business and governmental capacities over a 20-year period of time. Mr. Hopkins said that the new relationship with Hero Partners will enable Bennett Group to better serve its current clients as well as Hero Partners' clients. "Our respective skill sets are complimentary and synergistic. We are very excited about the things we can accomplish together," he said.
Mr. Baird, who will serve as General Counsel for Hero Partners, said, "The joint Bennett/Hero Partners team will provide a full menu of services to its clients, including business consulting, public relations, government relations and marketing. Our core mission will be to assist the Hero Partners portfolio of companies reach their potential as 'Hero Companies'."
About Hero Partners
Hero Partners is a Salt Lake City based Business Accelerator that works with entrepreneurs and small businesses, helping them maximize their core competencies and accelerate their business plans to build transformative American companies. Its Chairman is Robert Ryan, an acclaimed American entrepreneur and business leader.
About Bennett Group
Bennett Group is a full service business, public affairs and government relations consulting firm headquartered in Salt Lake City, Utah. Its Chairman is Robert F. Bennett, founding CEO of Franklin Quest (later Franklin Covey), and a former three-term Senator from the State of Utah.