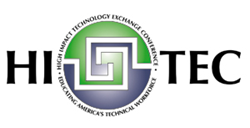 Chicago, IL (PRWEB) February 27, 2014
Educators, technicians, and other professionals who work in high-tech fields are invited to attend the High Impact Technology Exchange Conference (HI-TEC), July 21–24, at the Grand Hyatt Regency in Chicago—one of the world's leading technology hubs. HI-TEC offers a broad range of presentations, workshops, and tours designed to update the knowledge and skills of America's technology educators and professionals.
Attendees explore and analyze the convergence of scientific disciplines and technologies such as:

Advanced Manufacturing Technologies
Agricultural, Energy, and Environmental Technologies
Biotechnology and Chemical Processes
Electronics
Engineering Technologies
Information Communications, Security Technologies and Geospatial
Learning, Research and Evaluation
Micro- and Nanotechnologies
During the first two days, attendees have the option to choose from 18 preconference workshops and tours of four of the city's technological marvels—The Plant, Equinix Chicago Data Center, Chicago Deep Tunnel Project, and United Parcel Service Consolidation Hub. The main conference (two days) features keynote speakers, more than 70 breakout sessions, an awards luncheon, a technology showcase with door prizes, an exhibitor reception, and more.
HI-TEC strongly supports the mission of the National Science Foundation's Advanced Technological Education (ATE) program—to strengthen the skills of technicians whose work is vital to the nation's prosperity and security.
The Grand Hyatt Regency is located in downtown Chicago, right off Michigan Avenue, within easy walking distance of Navy Pier and many museums, shops, and restaurants.
Online registration: [http://www.highimpact-tec.org.