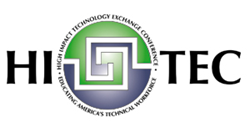 Chicago, IL (PRWEB) May 07, 2014
Community college, university and high school educators are always trying to keep up with today's exponential growth in technology. This ever-evolving field moves faster and faster every year, making it hard for educators to follow all the newest and latest trends. The High Impact Technology Exchange Conference (HI-TEC) is known by educators as this year's "place-to-be" to keep up with the latest technologies.
Located this year in Chicago, the international hub for technology, on July 21-24 at the Grand Hyatt Regency, HI-TEC is a national conference on advanced technological education that focuses on the preparation needed by the existing and future workforce for companies involved in the high-tech sectors that drive the U.S. economy.
This unique conference provides the brightest, most innovative scientific disciplines and technologies all under one roof. Educators agree that HI-TEC provides them:
1. Opportunities to work with other faculty who do similar tasks.
2. Learning to build technology programs at Community Colleges to train technicians.
3. The best methods to collect labor data and use it to guide program development.
4. Refreshing and renewing classroom techniques to becoming a better educator.
5. Ability to build a stronger technical workforce to remain globally competitive.
HI-TEC firmly supports the mission of the National Science Foundation's Advanced Technological Education (ATE) program to strengthen the skills of educators and technicians whose work is vitally important to the nation's prosperity and security. Educators have the option at HI-TEC 2014 to choose from 18 pre-conference workshops and industry site tours during the first two days, followed by the two day main conference, which will feature keynote speakers and almost 70 breakout sessions. In addition, there will be an awards luncheon and an exhibit hall with door prizes, an exhibitor reception and much more.
Educators attend HI-TEC every year to keep up with technology and innovation. This extraordinary conference allows educators access to leading edge content that can be used in classrooms along with connections to leading subject matters in the technology field. Community colleges nationwide share a similar mission…workforce development. Middle skilled technician jobs are increasing and becoming highly attractive to students interested in advanced technological education. HI-TEC promotes the sharing and diffusion of new, exhilarating ideas and practices not only to educators, but for counselors, technicians, industry professionals, trade organizations and workforce development advocates.
This national conference is high-tech savvy where knowledge and skills will be updated, and educators will walk away with the latest technology trends to bring back into the classroom.
Go to http://www.highimpact-tec.org or contact Sheila Wilson at 254-741-8329.