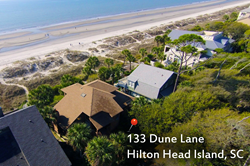 What is really unique is the seller is willing to take a portion of the purchase in Bitcoin...
Hilton Head Island, South Carolina (PRWEB) April 16, 2014
Hilton Head Island, SC oceanfront homeowner says he will accept Bitcoin in whole or in part for the purchase of his $2,690,000 vacation home. The owner instructed his real estate agent, Bill True of Lancaster Real Estate Sales, to offer Bitcoin because he likes the ability to lower transaction cost to overseas buyers.
In the current financial environment, it is an opportunity to convert Bitcoin into a hard asset.
"It is the first home to be marketed with Bitcoin on the Island that I am aware of," says Bill True, "but what is really unique is the seller is willing to take a portion of the purchase in Bitcoin and the balance in trade for timberland, commercial real estate, or owner financing."
Bitcoins are a digital currency exchanged peer-to-peer via using a wallet software on one's personal computer or mobile device and can be purchased for an exchange of currencies such as the US dollar. The digital currency is not government regulated, can be purchased at Bitcoin exchanges online, and payments are easy to make – easier than typing in a credit card number – by using the Bitcoin wallet application on your device. Large purchases, such as real estate or luxury items, can be bought and processed in as little time as an hour, the Bitcoin bypassing all bank and financial paperwork and processes. It can also be completely anonymous. Bitcoin exchange rates fluctuate quite a bit and can peak or drop overnight.
Since Bitcoins are fully open sourced and decentralized, no organization or individual can control the Bitcoin market. Rather, the exchanges and Bitcoins are protected by a series of heavily peer-reviewed cryptographic algorithms (similar to those used for online banking) so the networks are secure even if the buyer or seller credibility is unknown. In addition, there are a finite number of Bitcoins out there since the currency is mined via a complex 'super computer' system.
At the same time, the IRS recently issued new regulations surrounding the Bitcoin stating that the currency will be treated as a property. This means that, in theory, any purchases and gains made on Bitcoins must be reported annually based on the value of the Bitcoin at the time of exchange. In otherwords, lets say you by a Bitcoin at a rate of $200 and it doubles, and you then exchange your Bitcoin at the new rate for a $400 item, you have made a $200 profit which will need to be reported to the IRS at tax time. Although these new laws are in place, many feel that they will be hard to regulate, especially considering the constant fluctuating nature of the Bitcoin.
Selling personal property or goods in exchange for Bitcoin is not unheard of. In 2013 a Canadian woman sold her million dollar home for Bitcoin, two casinos began accepting Bitcoin in Vegas, and a start-up company out of San Francisco lets people invest in real estate with their virtual dollars. More recently, in February, a small villa in Bali was purchased for the equivalent of over half a million dollars in Bitcoins.
Although it's far from mainstream at this point, and despite the volatile nature of a new, unbacked currency, some find the risk worth taking knowing that the Bitcoins can be reinvested or exchanged for the US Dollar. Others enjoy the gamble; after all, a few years ago a Bitcoin could be purchased for twenty dollars where as more recently, the Bitcoin exchanged for over $800 apiece.
Currently regulators are developing ways for businesses and individuals to integrate this digital currency technology into their lives, while examining and developing the rules and laws that will encompass the Bitcoin.
The four bedroom, four bath home in Hilton Head is located oceanfront in North Forest Beach. A few of the two-story home's perks include an ocean facing deck, onsite parking, fully equipped kitchen and an open floor plan with cathedral ceilings. The home can be viewed on Lancaster Real Estate Sales website by following this link: http://www.hiltonheadhomes.com/mls/133-Dune-Ln-Hilton-Head-Island-29928/321958/7/1
Lancaster Real Estate Sales is a local Hilton Head Island real estate firm in business for 40+ years, serving buyers and sellers in the Hilton Head, Bluffton and Beaufort SC areas. You can reach Bill True at Lancaster Real Estate sales by email at Bill(at)HiltonHeadHomes.com or by phone at 843-384-9088.