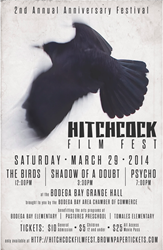 We created this event to give Bodega Bay visitors the chance to be a part of the 'living history' of Hitchcock.
Bodega Bay, CA (PRWEB) March 11, 2014
The public is invited to "Make it a Bird's Weekend" with a visit to beautiful Bodega Bay, Calif. to attend the BBACC's 2nd Annual Hitchcock Film Festival taking place Friday and Saturday, March 28-29, 2014.
Join the BBACC in celebrating all things "Hitchcock" on Saturday, March 29, and enjoy one or all three Hitchcock film screenings taking place at the Bodega Bay Grange Hall, 1370 Bodega Ave, Bodega Bay, CA 94923. Tickets may be purchased online, and are $10 per movie or $25 for an "All Access Pass" to watch all three:
12:00PM - "The Birds"
3:30PM - "Shadow of a Doubt"
7:00PM - "Psycho"
For your movie going pleasure, "The Grange Hall" in Bodega Bay is transformed into a fun theater, and moviegoers will have the opportunity to peruse Hitchcock memorabilia, and get their photo taken in a "Hitchcock" themed photo booth. Dan Sneed, Hitchcock enthusiast will speak about the making of each movie. Concessions and souvenirs will be available for purchase.
Forecasted to be a sold out event, the public is also invited to attend the Hitchcock Film Fest Gala on Friday, March 28, a black tie optional kickoff party taking place at 6 p.m. and hosted by the BBACC at the Bodega Harbour Yacht Club.  Guest are in for a "premiere night" of cocktails, heavy appetizers, and a chance to mingle on the red-carpet (complete with professional paparazzi) while enjoying live music amidst the a backdrop of a tribute screening of Hitchcock's famous 1960′s thriller "The Birds." Naturally, movie theater style popcorn is also on the menu.
March 28 Gala Event Tickets are $50 per person and include hors d'oeuvres, cocktails (2 drink tickets) and popcorn for the movie.
Tickets for both events available online here.
The BBACC would like to thank Bodega Bay Lodge, Gourmet au Bay, Bodega Bay Veterinary, Bodega Country Store, Candy & Kites, East Shore Outfitters, Fishetarian, Lucas Wharf, Sonoma Concierge, Happy Camper Bodega Bay, Sandpiper Restaurant, and Osmosis Spa for their in-kind contributions, and our Media Partner California Living™ for supporting the BBACC's mission to promote Bodega Bay as the premiere California "Stay & Play" coastal destination it is, which in turn, helps to support Bodega Bay's businesses and community as a whole.
The BBACC represents over 100 business owners and community members in the Bodega Bay area. Active since 2010, the BBACC produces the annual Chowder Day Event, the Annual Hitchcock Film Festival, and the Annual Fireworks Over Bodega Bay. Additionally, the BBACC owns and maintains the official website of Bodega Bay - VisitBodegaBayCA.com.