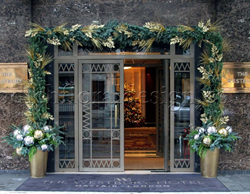 (PRWEB UK) 19 November 2014
London floral designer and specialist in hotel floral arrangements Todich Floral Design unveils some of the 2014 winter season's most stunning flower arrangements seen on display within the hospitality industry. Adding life and ambiance to hotel lobby flower arrangements and to the surrounding visual opulence of hotel lobby and restaurant décor, these flower arrangements have become much more than mere decorations. And installed within guest rooms and event halls, these designs add flair to anybody's experience, one that is both touching and invigorating. Todich Floral Design leads the way with innovation and diversity in their floral artistry, with arrangements no less bold, colourful and, ultimately, captivating as those seen in previous spring and summer seasons.
Decoration of luxury hotels is not a simple feat. Cohesion, the sense of creating a tableau that is much larger than each individual flower or bouquet, is crucial. It is an act that remains very much conscious in the mind and intention of the florist, and (when done well) will subconsciously build a sense of balance and beauty within the overall hotel interior design. A person, guest or visitor, walking through that scene feels an underlying cohesion, unconsciously, or will consciously choose to pause and admire a particular arrangement. For Todich Floral Design, the finesse and care taken in placement is, therefore, just as important as the rigours involved around conceiving of the design itself. Bright, tightly packed profusions of roses are wonderful for low tables in lobbies; or, longer stemmed orchids and lilies in both corner and central lobby displays. Lighter, vintage roses and lisianthus in white, medium pink and lilac are perfect for tearooms and afternoon private events.
Modern, elegant and slightly provocative is certainly one approach to creating the sense of shift for guests, a transition that moves them from the outside into the interior world and experience of their stay. Hotel room decoration flower arrangement s use shape and the actual bend of a flower's stem, visible through glass vases, for an aesthetic that draws the viewer into the display, inducing engagement and introspection like any piece of fine art. Prism-shaped vases filled with a crescent arrangement of white and yellow calla lilies are an elegant addition to desks or a chest of drawers, as guests can admire the arcing of the blossom at the end of the flower's longer green stems. In hotel lobbies, upside down lilies and carnations in glass tube or cylinder vases make a bright welcome with an unexpected twist.
Especially in winter, hotel flowers with more of a vintage feel can do a lot to add a sense of home and warmth to the atmosphere, especially for hotels that are family oriented or seeking to emulate a rustic style and environment. Corporate florist Todich Floral Design demonstrates that sometimes simple is best, especially when their focus is on quality, fresh and seasonal flowers; certain floral designs allow the flower (and not the elaborate style of the arrangement) to remain the focus. Glass vases, hand-wrapped bouquets with branches or foliage, and individual flower arrangements—roses, lilies and orchids are excellent, recognizable choices—can, through simplicity, achieve a perfect floral effect.