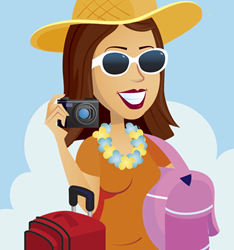 Natick, MA (PRWEB) March 26, 2014
With increasing prices for airfare and kid-friendly attractions, family vacations are even more expensive than ever. Recognizing that, FamilyTravelMagazine.com, a top family travel blog, curated expert tips for getting hotel room deals. The expert tips were added to tips from FamilyTravelMagazine.com's editor and family travel expert Jodi Grundig, to create a definitive guide for families.
Some of the top tips include:
Using the free HotelTonight app to get last-minute deals in major cities
Searching sites like Priceline and Hotwire to get access to unsold inventory
Joining travel clubs like Last Minute Travel to obtain major savings on hotel rooms
Looking at package deals from companies like JetBlue Getaways and Southwest Vacations.
Family travel expert and FamilyTravelMagazine.com editor Jodi Grundig is available to discuss any of these tips on air or over the phone.
About FamilyTravelMagazine.com: Passionate about promoting family vacations that help a family bond, FamilyTravelMagazine.com ( http://www.familytravelmagazine.com) reviews hotels, destinations and attractions and reveals special deals and promotions at hotels across the U.S. Because mom and dad sometimes need to get away alone, the magazine also features destinations for parents only. Jodi Grundig, mom of two with an MBA and ten years in corporate finance, is a sought-after brand ambassador, travel writer, mom blogger (since 2007) and brand consultant. An avid traveler and travel blogger, Jodi has written about some of the nation's best family hotspots, including Hawaii, Freeport, Maine, Phoenix, AZ, Grand Cayman, the White Mountains of New Hampshire, and Martha's Vineyard.