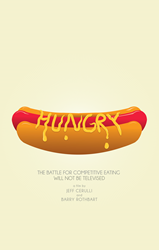 New York, NY (PRWEB) June 24, 2014
"Hungry," a documentary taking a look at a year's struggle in the world of competitive eating, will launch worldwide via Video On Demand June 24, 2014. The Jeff Cerulli (Girl Code, FML) and Barry Rothbart (Wolf of Wall Street, Conan, The Tonight Show, Punk'd) feast will be released just in time to whet your appetite for this year's Nathan's world famous July 4th Hot Dog Eating Contest on Coney Island.
Follow the jaw-dropping exploits of several competitive eaters, including six-time Nathan's Hot Dog Eating champion Takeru Kobayashi. After a contract dispute with Major League Eating, the organization that holds a veritable monopoly on the sport, Kobayashi is banned from their events, but fights back to restore his tarnished reputation.
FilmBuff will exhibit the film on all leading On Demand platforms including iTunes, Amazon Instant Video, Vudu, Google Play, XBOX Video, and Sony PlayStation.
To learn more about the film, please visit http://www.hungrythefilm.com. To pre-order the film, please visit http://bit.ly/1m5pgfp.
About FilmBuff
New York-based FilmBuff is the leading distributor of incomparable digital entertainment which curates content that consistently informs, entertains and inspires.
About Barry Rothbart
A New York- and LA- based comedian, Rothbart has been featured in many of today's hit films and TV shows including The Wolf of Wall Street, The Tonight Show, Conan, and The Late, Late Show with Craig Ferguson. He was named one of Variety's Top Ten Comics to watch in 2013. He is represented by ICM Partners and 3 Arts Entertainment.
About Jeff Cerulli
A New York-based comedian, Cerulli has been featured on Sirius Satellite Radio, MTV's popular shows Girl Code and FML. Also, he has been seen on VH1's hit morning show Big Morning Buzz Live. His first short film debuted at the "New York International Independent Film Festival."