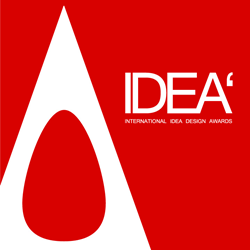 Best design ideas and creative solutions will be highlighted to an international, design-oriented audience.
Como, Italy (PRWEB) February 12, 2014
A' Design Award and Competition is now accepting entries for the fourth Annual International Idea Design Competition (IDEA') offering designers worldwide the opportunity to showcase their creativity with illustrations, sketches or actual projects.
The Idea Design Awards is open to individual designers, design professionals, design firms, creative agencies, in-house corporate design departments, design instructors, individual design students and design student groups worldwide. Prospective participants can submit illustrations, sketches, renderings for their conceptual design ideas or photos of finished products.
Applications are reviewed by an annually selected, independent jury committee comprised of leaders in the design industry; prominent design professionals, established academics as well as influential press members will blind-vote and peer-review the entries. Evaluation of concepts and designs will be based on creativity, originality, visual aesthetics, potential benefit to society, impact on the nature, and effectiveness of the implementation or realization. The decisions of the judges are final.
Winners of the A' International Idea Design Awards will be given the award trophy, design excellence certificate, best designs yearbook publication, invitation to award exhibition and gala-night in Italy, the ability to use award winner logo, as well as press release preparation and distribution, communication to thousands of publications and translation of the awarded works to 20+ languages to reach international audiences. Learn more about the A' Design Prize at adesignaward.com.
Entries may be submitted using the online call for entry form at adesignaward.com until Friday, February 28, 2014 by 23.59 GMT+1. Please note that the online form does not automatically enter the proposal into the competition, submitted design must first pass the preliminary evaluation. Results will be announced on April 15, 2014.
About the International Idea Design Awards
The A' International Idea Design Awards were established to recognize and support designers who use their skills and expertise to solve problems and create innovative solutions for a wide range of activities. The accolades are aimed at generating innovative solutions that deal with current and future problems, featuring designs and designers that make positive change. The A' Design Award and Competitions have a philanthropic goal to push forward the fields of architecture, engineering and design. Learn more at http://www.whatisadesignaward.com.