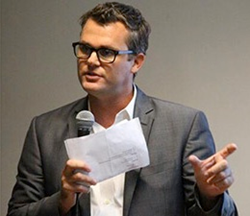 Crowdfunding [is] a new technology-enabled democratization of investing.
San Mateo, CA (PRWEB) July 15, 2014
iFunding, America's real estate crowdfunding platform, announces that its CEO, William Skelley, will be a featured speaker on a panel at the Global Real Estate Crowdfunding Conference III, to be held July 17-18, 2014, in San Mateo, Calif. The panel discussion, which occurs at 11 am at Draper University of Heroes on Friday, July 18, is titled, "Real Estate Crowdfunding Technology and Innovations."
The panel discussion, moderated by Sydney Armani, publisher of CrowdFund Beat, will address crowdfunding trends, technical and business process innovations, guidance for investors, and how to's for residential and commercial real estate operators to most effectively raise capital. Other panels will cover developing new real estate markets with crowdfunding; its potential for social impact; and expanding footprint across the U.S. and the world. The conference is organized by The Soho Loft and FundingPost.com, and is the third in a successful series in which iFunding has participated. Dinner and networking/cocktails are on the agenda for the evening of July 17th, with the educational content being presented on July 18th.
Crowdfunding makes real estate accessible to a broader community of investors seeking attractive returns and low minimum investments, and reduces the overhead of developers seeking new capital sources and reporting results to investors. iFunding's speaking role at the conference is part of its ongoing program to educate more parties about how to participate in crowdfunding. Other educational outreach includes webinars about specific investment opportunities for registered users at iFunding's website, and presentations at local real estate investment associations (REIAs). iFunding recently authored an article in Real Estate Weekly about the impact of crowdfunding on real estate players.
"Soho Loft's conferences are always excellent opportunities for investors and real estate professionals to exchange insights and learn more about real estate crowdfunding and its potential as an investment and capital-raising tool," said William Skelley, CEO of iFunding. "The agenda reflects the implications of crowdfunding in our industry: a new, technology-enabled democratization of investing, the potential to improve housing conditions by facilitating affordable housing investments, and nationwide and even international participation across housing markets. I am looking forward to speaking with developers and investors about how they can participate in this movement."
The address for event activities on Friday, July 18, is 44 East 3rd Ave, San Mateo, CA. The location, Draper University, was founded by renowned venture capitalist Tim Draper to train entrepreneurs. For more information about the conference, visit http://www.thesoholoft.com/conferences/global-real-estate-crowdfunding-conference-iii-san-francisco/.
About iFunding
iFunding is a leading real estate crowdfunding platform, facilitating equity and debt fundraising for single family homes, multi-family residences, apartment towers, retail locations, office buildings and mixed-used buildings. iFunding provides opportunities for accredited investors to invest in institutional-quality real estate deals, with a minimum investment of just $5,000. The company specializes in preferred equity investing and directly oversees each deal throughout its lifespan, providing extensive information and transparency to give investors insight and oversight into their investments. iFunding is based in New York with investments across the U.S. and offices in San Diego and Singapore. Visit http://www.ifunding.co for more information, or connect with us on LinkedIn at http://www.linkedin.com/company/innovational-funding, on Facebook at http://www.facebook.com/iFunding , or via @inno_funding on Twitter. The corporate phone number for investor and operator inquiries is 844-367-4386.
Media Contact:
Patty Buchanan
Fastlane Communications
(973) 670-1203
pbuchanan(at)fast-lane(dot)net
iFunding Contact:
Scott Lichtman
Marketing
203-747-8557
press(at)innovationalfunding(dot)com