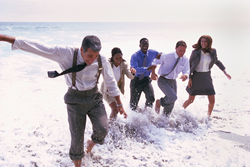 Smart companies incorporate incentive cruises or incentive land based trips into the mix.
Kansas City, MO (PRWEB) July 29, 2014
More companies than ever before are calling Cruise Dreams, a specialty travel agency focusing on incentive and group travel, to use travel incentives to retain and reward customers and/or employees.
"Typically, we plan incentive cruises or resort programs 18 months or longer in advance," Kim Gibbons, Founder and president of Cruise Dreams, stated. "Lately, companies have been looking for a quick turnaround for an incentive trip, creative suggestions for noteworthy programs and the ability to get the word out quickly – areas where we shine. Some incentive travel programs are being planned for less than 6 months from now, which is very unique for incentive travel."
According to an online article from CNN Money in June of this year, 2014 has seen more than $786 billion in mergers and the year wasn't even half over. That's close to the total for the last big spending spree, 2007. Many companies consider an acquisition or merger a better use of money than investing in accounts with low, low interest rates and many will take advantage of those same low rates to borrow to buy.
Smart companies incorporate incentive cruises or incentive land based trips into the mix. The top reasons for added incentive travel, even if it's in the near future?
Employee Rewards. Many companies recognize that long hours and intense work often go into planning a merger or acquisition. And that's just before the actual transaction takes place. Rewarding valued employees just makes good financial sense. As does…
Employee Retention. Employees on both sides of the merger or acquisition are understandably nervous, for many reasons. Job loss, of course, and down-sizing are concerns, new management with new ways of doing things, are just a few or the trepidations that might prompt mass defections. Group travel or individual travel awards can do a lot to allay those fears.
Customer Retention. Customer retention is a concern also. Often competitors take the opportunity to try to convince clients that the merger or acquisition will be to the clients' detriment. Clients may or may not be familiar with the new company or may have had a less than great relationship in the past. A meeting at sea or at a sunny resort can give everyone the chance to reestablish relationships, consolidate existing relationships and put any concerns to rest.
Sales Spike. A customer or employee incentive contest can provide dividends in more ways than one. Contests provide not only a sales spike that may improve a negotiation but also engage the participants and shift the focus to qualifying.
Sales Meetings – by land or at sea. For employees and/or customers, an incentive cruise or incentive stay at a 5-star resort is not only a travel reward, its also an opportunity to meet new counterparts and executives, establish and improve current customer relationships and build loyalty in both the employee and client sectors.
Communication for both employees and customers is key during an acquisition or merger and Cruise Dreams is well prepared to provide a higher level of interaction with a group customized website used for trip registration, up to date details about the travel program, easy access to information and changes, links to destination information and more. This is provided at no charge to group travel clients.
The ability to provide proposals for an incentive travel group with a quick turnaround is another Cruise Dreams specialty. Their knowledge of booking trends and availability in the industry is second only to their first-name basis relationship with high level executives throughout both cruise lines and resort operators.
Even more important is the Cruise Dreams "Wow" factor when a company is trying to retain customers and employees. Every program includes an unusual, once in a lifetime excursion, tour or extra that demonstrates how valued employees and customers are. Some favorites from past trips are a private cocktail party, high above the Thames River, in the London Eye; a Great Race Road Rally in vintage Alpha Romeo cars; a Tuscany countryside tour with a cooking lesson and dinner at a famed restaurant, and more.
Companies planning ahead for a healthy customer and employee transition should consider an incentive travel program with a specialty agency like Cruise Dreams.
# # #
Cruise Dreams, a niche travel company, specializes in individual and group travel or cruises plus corporate incentive travel at sea or on land. Whether it is a cruise for two or two hundred, a full ship or partial ship charter or a stay at a5-star all-inclusive luxury property world-wide, Cruise Dreams is known for expertise, negotiating savvy, destination knowledge and exemplary customer service. For more information, visit http://www.cruisedreamsincentivetravel.com or call 1-877-999-4533.