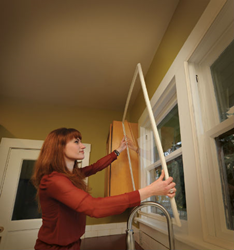 Portland, OR (PRWEB) March 20, 2014
Indow Windows is a Portland-based company specializing in sustainable window solutions. Founded in 2010, it's dedicated to making the built environment more energy efficient while creating positive outcomes for its community, employees and customers. Indow Windows proudly "provides homeowners with comfort and quiet while helping them achieve financial and environmental harmony."
We are thrilled Indow Windows has joined the One PacificCoast Bank family. As a triple-bottom line bank, we seek to provide loans to businesses and non-profits that meet human needs in an equitable and environmentally sustainable manner, and provide financial and deposit services to organizations and individuals that share those same values.
Indow Windows is one of those companies that share our values. It is using the power of business to help solve environmental problems that affect our communities; it's dedicated to providing a balanced work-life for employees and making sure clients receive excellent customer service that's coupled with expert advice on how to maximize home improvement budgets with tax incentives and other financial subsidies. The staff at Indow Windows is also continuously out in the community supporting projects and volunteering.
We would like to congratulate Indow Windows for winning the CleanTech Open top prize for sustainability and the national Energy Efficiency Award in 2011!
If you'd like to learn more, please visit them at http://www.indowwindows.com.
About One PacificCoast Bank, FSB
Founded in 2007 by Tom Steyer and Kat Taylor, One PacificCoast Bank is a FDIC-insured, Certified Development Financial Institution (CDFI) and SBA Preferred Lender headquartered in Oakland, CA. In addition to banking services for individuals, businesses and nonprofits, One PacificCoast Bank works with the One PacificCoast Foundation to increase financial capacity, affordable housing and environmental conservation in the low and moderate income communities it serves. One PacificCoast Bank operates from a triple-bottom-line perspective, measuring financial as well as social and environmental outcomes. The Bank also has branches and offices in Sacramento, CA, Portland, OR, Seattle, WA, and Ilwaco, WA. For additional information, please visit http://www.opcb.com.
About Indow Windows
Indow Windows was launched in November 2010 after CEO Sam Pardue found a better way to insulate the windows in his 1906 Portland Craftsman home with a simple, elegant thermal window insert , which is now available in 32 states and Canada The company has a dynamic team dedicated to building and refining the product, crafting each handmade insert to fit any leaky or underperforming window. Indow Windows are 100 percent made in the USA.