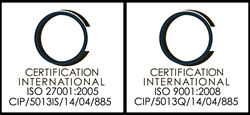 This is one opportunity we vow to take to prove that Infinit-O is really one of the bests.
Makati City, Philippines (PRWEB) September 24, 2014
Infinit Outsourcing, Inc. (Infinit-O), a Philippine-based global business process outsourcing (BPO) company and its governing entities, got the seal of approval and stamp of quality with the awarding of renewed certifications for ISO 9001:2008 and ISO 27001:2005 by the Certification International Philippines, Inc. (CIP) last June 2, 2014.
As an ISO (International Organization for Standardization)-certified BPO company, the renewed certifications validate that after a careful assessment by the CIP, Infinit-O operates quality management system and information security management system.
The awarding of ISO 9001:2008 certification to Infinit-O means that it is a customer-focused organization that ensures sustained customer satisfaction by producing, delivering services, and providing support functions that meet customers' needs and expectations. Meanwhile, being ISO 27001:2005 certified guarantees that Infinit-O complies with the Information Security Management System (ISMS) standard for the implementation of security controls that protect information assets, a crucial factor when working with companies in Data and Research, and the Healthcare industry.
Infinit-O has been ISO-certified since 2006, and received its continued certification last year. Just recently in Q1, Infinit-O moved to a new facility where particular attention to physical location, building infrastructure, accessibility, scalability of capacity, and availability of labor pool had been taken into consideration. The new Infinit-O facility per mandate of the ISO standards was required to undergo a surveillance audit, which had been conducted earlier this year by the Governing Board of Certification to ensure completion of requirements, by which Infinit-O successfully passed.
Renato Navarrete, Managing Director of CIP, recognized the awarding of renewed certifications to Infinit-O, "Congratulations on your accomplishments with the use of ISO 9001:2008 and of ISO 27001:2005 as instruments for enhancing the competitiveness of your organizations and for meeting your customers' needs and expectations".
The CIP also released its new certification marks which Infinit-O proudly shows off on all its business materials.
Newly-appointed Chief Operating Officer, Patrick Keegan, says, "This action demonstrates Infinit-O's commitment in upholding our vision of becoming the trusted and preferred outsourcing company. We are looking forward to stronger business relationships to our current clients and establishing new partnerships with small-to-medium sized businesses. This is just one opportunity we vow to take to prove that Infinit-O is really one of the bests."
"As Infinit-O grows, we can say that there will definitely be bigger steps from us moving forward and we'll be very glad to announce them as well." Keegan adds.
The CIP, an affiliate of the British company Certification International U.K. Ltd. CIP has been in the Philippines since 1995. It has certified more than 900 Philippine and multinational companies who are leaders in their respective industry or service sector. It is also the certifying body of majority of government offices and institutions.
About Infinit-O
Infinit-O is an outsourcing company based in the Philippines. The company provides a wide variety of Business Process Outsourcing (BPO) services and Knowledge Process Outsourcing (KPO) solutions including Back Office, Research, Finance and Accounting, Contact Center, IT, and Healthcare Outsourcing Services. Infinit-O is built to address the challenges of small and medium-sized companies that want to realize the full benefits of outsourcing. Contact us now for more information.