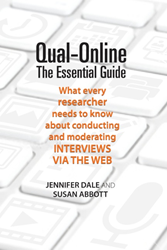 This book is a gold mine.
Ithaca, NY (PRWEB) October 31, 2014
"Qual-Online represents the fulfillment of a giant need in our industry," raves Benjamin Smithee, CEO of SPYCH Research in Philadelphia. "Susan and Jennifer are experts in our industry and have provided a professional's playbook and guide for all things qual online... they really nailed it."
For researchers and marketers alike, the new business book takes readers on an entertaining tour of all the possibilities for online interviewing and qualitative data collection.
Online is a foundational skill for researchers, as important as learning how to do in-person studies. Research buyers reading "Qual-Online" will find themselves well-informed when preparing their next RFP.
"Qual-Online, the Essential Guide" is available online at Amazon.com and Paramount Books. Published by Paramount Market Publishing in Ithaca, NY. For more information, contact James Madden, Publisher.
About InsideHeads
InsideHeads is a full-service online market research company since 1998 with experience developing surveys and platforms for moderating online focus groups.
About Abbott Research
Abbott Research + Consulting is a boutique consultancy specializing in customer insight and discovery-driven innovation.