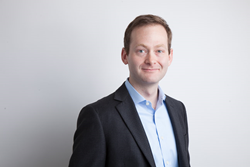 "Brendan will deploy his hands-on experience and global perspective to help make the Apollo unique" - Insight CEO Richard Hausler
Arlington, Virginia (PRWEB) October 01, 2014
Arlington, Virginia-based multifamily developer Insight Property Group announced today that DC architect Brendan Whitsitt has joined the company as Development Associate for its $189 million mixed-use Apollo project on H Street in Washington, DC, which began construction earlier in September.
Set for completion in early 2017, the Apollo will include a Whole Foods Market and other retail, together with 430 apartments and state of the art amenities including a green roof with Capitol views.
As Development Associate, Brendan will be responsible for oversight and construction at the Apollo. Before joining the Insight team, Brendan worked as a staff architect at SK+I Architecture in Bethesda, MD where his team designed multifamily and mixed-use projects totaling more than 1 million square feet and over $300 million in construction costs for the DC market.
Prior to SK+I, Brendan worked in China and the Middle East, providing consulting and design services for commercial clients, educational institutions, and international development organizations. A DC resident, Whitsitt owns the District Wood Company, a furniture and homeware manufacturer that specializes in using reclaimed lumber from DC's residential renovations.
"Brendan will deploy his hands-on experience and global perspective to help make the Apollo unique," according to Insight CEO Richard Hausler.
The 430-unit Apollo is part of Insight's growing presence in the DC-area multifamily and mixed-use development market. Other current Insight apartment projects include the 310-unit Fenwick near the Metro in Silver Spring, Maryland, and the 240-unit Shelby near the Huntington Metro in the Alexandria section of Fairfax County, Virginia, both now leasing. Other current Insight development projects the re-development of the Metro Rosslyn Apartments in Arlington, Virginia. The company has also acquired 572 existing apartments in four Metro DC-area locations.
Founded by longtime multifamily industry veterans Richard Hausler and Michael Blum, Insight Property Group LLC acquires, repositions, and develops well-located apartments and mixed-use real estate in the Washington, D.C. metropolitan region. The principals have over 70 years of experience in the in the area real estate industry. For more information on insight, visit: http://www.insightpropertygroupllc.com.