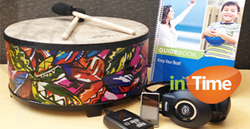 'inTime offers a safe, enjoyable and effective solution for children and adults who have difficulties with attention, timing, rhythmic movement, and stress resilience,' said Alex Doman, founder and CEO of Advanced Brain Technologies.
Ogden, Utah (PRWEB) April 03, 2014
Advanced Brain Technologies, creators of The Listening Program®, a provider of evidence-based music programs and products for improving brain function, today announced the release of inTime. inTime is a rhythm-based music listening method developed to influence brain performance.
The inTime method provides a personalized program of listening training and fun beat-based activities, using body, drum, and voice to stimulate changes in self-regulation, sensory-motor function, and interaction.
Created and produced by occupational therapist Sheila Allen, composer and musician Nacho Arimany, and author, founder & CEO of Advanced Brain Technologies, Alex Doman, inTime is an organic compilation of original compositions, based on a blend of world music with diverse percussion, string, and wind instrumentation, which accents the power of rhythm and sound frequencies.
A preliminary study examining the effects of inTime on children and adults with a wide range of abilities investigated immediate and short-term gains achieved with participants ages 3-90. The first phase of the study included 58 participants with wide ranging diagnosis including; dementia, Alzheimer's disease, ADHD, sensory processing disorder, autism, anxiety, depression, learning disabilities, dyslexia, and traumatic brain injury. Results include reported mood elevation, reduced depression symptoms, improved rhythm, focus, and timing, improved speech and language, and lower stress levels. Research is ongoing and now moving into a second phase.
"inTime offers a safe, enjoyable and effective solution for children and adults who have difficulties with attention, timing, rhythmic movement, and stress resilience," said Alex Doman, founder and CEO of Advanced Brain Technologies. "Rhythm and timing are essential to optimal brain and body performance. inTime, provides an exciting opportunity for brain training through the practice of rhythm-based music listening with an emphasis on beat synchronization."
The brain is musical; neuroscience has proven through functional brain imaging that music engages more brain areas than anything else, and rhythm is the most important, fundamental aspect of music. Brain health and the brain-body connection depend on rhythm. The ability to synchronize movement to a steady beat relates to the brain's response to sound. And, musical training with an emphasis on movement synchronization to musical beats can improve brain synchrony. inTime was created to engage multiple brain regions through a combination of music, rhythm, and beat-based activities, helping children, teens, and adults stimulate improved focus, rhythm & timing, and stress response.
inTime is already receiving international acclaim from the music cognition and neuroscience community. Producers Sheila Allen, Nacho Arimany, and Alex Doman have been invited to present the program at the Interdisciplinary Society for Quantitative Music and Medicine Conference at the University of Georgia in Athens, III Congreso Neurociencia y Aprendizaje at Universidad Tecmileno in Monterrey, Mexico, and most recently were guests as part of the Science and Media Lecture Series at the Rockefeller University in New York City, where hundreds gathered for a panel discussion moderated by clinical psychologist and neuroscientist Dr. Kamran Fallahpour.
Each inTime listening system comes with a digital music player preloaded with the entire inTime music library, headphones, guidebook, and a therapeutic drum and mallets developed in partnership between Advanced Brain Technologies and REMO, Inc.
Officially released in February, inTime is already being offered by occupational therapists, audiologists, physicians, speech and language pathologists, psychologists, other clinicians and educators throughout the United States, Canada, United Kingdom, Australia, Mexico, Bulgaria, and Japan.
inTime is being debuted to occupational therapists at the American Occupational Therapy Association (AOTA) 94th Annual Conference & Expo April 3-6, 2014 in Baltimore, Maryland. Therapists can visit booth #848 for a product demonstration and to register for inTime provider training to offer inTime in home, clinic, hospital, and school settings.
inTime is available exclusively through Advanced Brain Technologies and an international network of inTime providers http://advancedbrain.com/intime. For more information, please contact 801.622.5676.
About Advanced Brain Technologies
Advanced Brain Technologies (ABT) is the leader in sound brain fitness, helping hundreds of thousands of children and adults throughout the world improve their lives. The company's vision is to transform the life of every person by making sound brain fitness universally attainable.
ABT's flagship product line, The Listening Program® (TLP) is a family of innovative, evidenced-based music solutions for people actively looking to make a positive change in their lives or the lives of others.
For more information, visit http://advancedbrain.com or call Toll-free 1.888.228.1798.