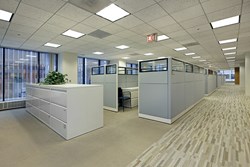 Los Angeles, California (PRWEB) January 09, 2014
The Commercial Movers, one of the most cutting-edge business moving services based out of Southern California has announced a new application for both Android and Apple phones that allows users to track their moving trucks via a GPS map. The app also lets users monitor a webcam embedded inside the cargo area of each moving truck, as well as the air temperature. The Commercial Movers has made this move, anticipating an advantage in their field by having the most quantitative data available on-hand relative to their competitors.
The claimed advantage of The Commercial Movers has always been about technology. They've always adapted new moving technologies, and have made it a part of their explicit mission to anticipate their clients' desires not a year into the future, but a decade into the future.
The advanced planning for corporate office moving function of the mobile application allows for users to tweak many different variables and a slew of options
Inspired by the growing trend of data aggregation, The Commercial Movers has started to beef up their technical prowess. "It's our mission to make the customers think we were born in Silicon Valley," says the director of marketing.
The app is the newest and most customer-oriented feature to be launched as a part of The Commercial Movers shift toward mobile service. "People aren't just talking, and texting, and dating on their phones. They're doing everything. And that means moving on their phones," says the CEO. "People want to have the information in their pocket. They want to be able to see their stuff, literally, both in real-time video and on a GPS screen at any given time. And we're more than happy to deliver that experience."
As a part of an extremely competitive business moving services community for over two decades, The Commercial Movers has been able to outgrow and outlast its competitors by using the tactic of early adoption. They are even considering switching over to electric trucks within the next fives years if the technology becomes available.
The Commercial Movers also claims the most competitive prices on the market, and believes that the new GPS tracking will only help bring down the prices. "We can monitor the trucks just like everybody else," the CEO adds. "We know what routes our drivers are taking, and we can make sure they're the most fuel efficient. That's savings that's passed along to the customer."
The Commercial Movers has always been the cutting-edge business moving service. With its new app and monitoring system, it has cemented its place ahead of the pack for the future. Its website, call center and chat service are all open 24/7 and ready to move.