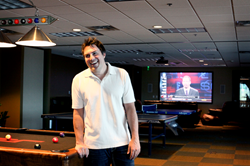 The software companies providing the tools to connect devices, for example, are going to be a critical player as the Internet of Things expands
Scottsdale, AZ (PRWEB) October 02, 2014
Jason Hope, entrepreneur and long-time proponent of the Internet of Things, points to the potential for investors who can capitalize on this up-and-coming phenomenon. He claims that the developing connectivity and the infrastructure it will require provides several key opportunities for investors to increase their revenue as the world and its devices become increasingly connected.
Forbes agrees with Hope. In a recent article titled, "How Investors Can Profit From The Internet Of Things" a Forbes writer pointed to three key areas where investment will be needed: infrastructure, devices and retailers selling those devices. According to the article, investors who are poised in each of these areas will be in a good position to increase their earnings as the Internet of Things develops.
"First, we will need people to invest in the actual tech," explained Jason Hope. "The software companies providing the tools to connect devices, for example, are going to be a critical player as the Internet of Things expands."
He also agreed that the device manufacturers are a great place to invest. This is a bit harder to define, because investors must be able to determine which of the thousands of market innovations will become the next "thing" in the Internet of Things.
For instance, Polo has recently launched a line of shirts that contain technology that transmits biometric data about athletes to help monitor their bodies during rigorous sports performances. Investors that predicted this would take off are doing well, while those who thought this was just a novelty instead of a truly useful device will be missing out.
Retailers, the third category, are always a sure bet, as long as investors can predict which retailers will handle the selling process well and avoid bankruptcy. "The key is that investment potential for the Internet of Things is huge," states Hope. "Investors need to develop a varied portfolio to be successful, and that portfolio should have some holdings connected to the Internet of Things."
About Jason Hope
An Arizona native, Jason Hope is an entrepreneur and futurist who taps into his business success to support the local community through charitable outreach efforts. Hope is a strong advocate for the benefits of the growing Internet of Things and believes that those benefits will soon help connect people and their devices in a greater way. Learn more about his predictions and charitable efforts at http://www.jasonhope.com.