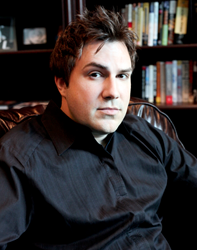 Once security protocols and platforms are in place, we will see the Internet of Things take over in the home connectivity sector
Scottsdale, AZ (PRWEB) October 14, 2014
In the next five years, Jason Hope predicts that the average home will be smarter and more connected than ever before. With millions of people embracing the Internet of Things and connected devices almost daily, adoption and awareness is high for connectivity at home, and the home is the next frontier where these devices will be embraced to the fullest.
Hope is not the only one making note of this trend. In a recent article by Business Insider titled: "THE CONNECTED-HOME: Forecasts And Growth Trends For The Leading 'Internet Of Things' Market", reported on the growth in this market as it relates to shipments and revenue. They found that the shipments of connected-home devices would grow by a rate of 67 percent over the next five years, until it reaches a point of 1.8 billion units shipped in 2019. In addition, connected-home devices will make up 25 percent of the Internet of Things shipments in 2014, and this will grow each year going forward.
What types of devices are leading this home connectivity revolution? "We are seeing great interests in home-energy equipment and security systems," states Hope. "This makes sense, as these items are easily connected to technology. As the Internet of Things continues to grow, adoption in other areas, like appliances and even personal care items, will begin to take off."
The BI Intelligence report also indicated the potential value of the Internet of Things. According to the report, this year the Internet of Things will bring in $61 billion in revenue. That is expected to grow at 52 percent through 2019.
Before people will be willing to embrace the Internet of Things at home to its fullest, Hope warns that security questions have to be addressed. "People want to know that the devices they are bringing into their homes are not going to put their safety at risk," he states. "Once security protocols and platforms are in place, we will see the Internet of Things take over in the home connectivity sector."
About Jason Hope
Jason Hope's charitable work has earned him a reputation as a philanthropist with an eye for bettering the health and technology future for people. He lives and works in Scottsdale and offers help as a technology expert and futurist. Learn more about his work at http://www.jasonhope.com.