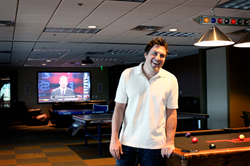 The Internet of Things is about more than simply connecting people more effectively to the Internet
Scottsdale, AZ (PRWEB) November 22, 2014
With the billions of devices across the globe that are connected to the web through the growing Internet of Things, many are wondering about the amount of data, but Gigaom.com indicated on November 15, 2014 in a article entitled "The Internet of Things isn't producing a data deluge. . . yet" that the data deluge has not yet happened. Jason Hope believes that this is about to change, but that companies need to find ways to make the data usable in order to see this change happen.
Consider, as the article points out, the Amazon Web Services cloud. Here, applications connected to the Internet of Things run and collect data on their users. Yet, where is that data going? Currently, it's all being dumped into a virtual bucket.
The volume of the Internet of Things data is not where it will be, either, Hope and the article agree. While consumers are starting to store their data on cloud providers connected through the Internet of Things, being able to use that data for a purpose has yet to be fully tapped. Also, the amount of data has not yet reached its peak. A growing number of connected devices designed specifically to mine usable data points to the future potential of the Internet of Things.
"Many systems are in development that will start to tap into this data," says Hope. "One of these, as the Gigaom article points out, is the Coke Freestyle machine. This computerized drink machine tracks the popularity of various drink combinations to help Coke and restaurants that serve Coke to make informed changes."
Other changes on the horizon that could make the data more usable include ideas like using RFID tags to determine, in real time, what is being consumed at a restaurant or environmental monitoring systems that monitor the conditions on a construction site.
"The Internet of Things is about more than simply connecting people more effectively to the Internet," says Hope. "With the right devices in play, it can provide a wealth of targeted data usable by marketers and other professionals. These changes are likely right around the corner."
About Jason Hope
Jason Hope, entrepreneur and philanthropist, is an Arizona native who takes a keen interest in technology and the way it can be used to improve the lives of the people around him. Learn more of his work and projects at http://jasonhope.com/.
About Gigaom
Founded in 2006, Gigaom is the leading global voice on emerging technologies. Our blog, research and events humanize technology and provide deep insight on disruptive companies, people and trends. Learn more by visiting https://gigaom.com/.