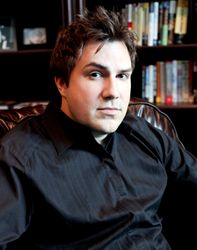 When we have consumers with smart phones, smart lights, smart refrigerators and more, all of which cannot communicate, the opportunity to connect these devices to each other will make them much more effective
Scottsdale, AZ (PRWEB) November 25, 2014
One of the problems with the Internet of Things is the lack of connectivity and compatibility between devices. Consumers who purchase different devices may not be able to use them together when they use different standards and operating systems. Jason Hope hopes that the latest announcement from the ZigBee Alliance, published in a recent eWeek.com article on November 19th entitled "ZigBee Creates Single, Unified Spec for Internet of Things," will help bring previously unconnected devices together in the Internet of Things.
Last week, eWeek.com discussed the ZigBee Alliance's recent move to unite an array of tech under ZigBee 3.0, a new standard that will help enable Internet of Things devices to communicate and interoperate with one another. "This is huge," stated Hope. "When we have consumers with smart phones, smart lights, smart refrigerators and more, all of which cannot communicate, the opportunity to connect these devices to each other will make them much more effective."
Tobin Richardson, president and CEO of the ZigBee Alliance, stated in the article, "Lessons learned by Alliance members when taking products to market around the world have allowed us to unify our application standards into a single standard. ZigBee 3.0 will allow product developers to take advantage of ZigBee's unique features. . . to deliver highly reliable, secure, low-power, low-cost solutions to any market."
ZigZBee 3.0 is based on the IEEE 802.15.4 spec. It also uses ZigBee's PRO networking. These two features ensure that devices will communicate well, even among low-powered devices. This change comes after months of discussions and the forming of groups focused on connecting the Internet of things.
"This is important," says Hope, "As experts are expecting the 25 billion connected devices now to double by 2020. In order for the IoT to work the way we have envisioned, these billions of devices must be able to communicate. ZigBee is laying the foundation to make this possible."
Around 74 percent of the Internet of Things market are ZigBee-enabled devices. ZigBee is strongest in the home automation market. This means ZigBee 3.0 is a major development that will affect consumers all around the world. "If other developers follow ZigBee's path," says Hope, "then the future of the Internet of Things is very bright."
About Jason Hope
Jason Hope is an entrepreneur who focuses his energy on promoting developments in technology and health that will make the future brighter for humanity. Learn more about his work and his latest research at http://www.jasonhope.com.
About ZigBee
ZigBee is the only open, global wireless standard to provide the foundation for the Internet of Things by enabling simple and smart objects to work together, improving comfort and efficiency in everyday life. Learn more by visiting http://www.zigbee.org