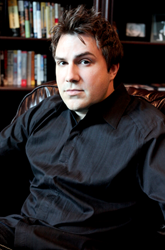 It's time to pay attention to what is changing, and make the necessary business changes to adjust appropriately
Scottsdale, AZ (PRWEB) December 01, 2014
Is the Internet of Things overhyped? An article in InformationWeek states that some IT execs believe it is, but Jason Hope does not agree. The article, entitled and posted on November 17th "Internet of Things 'Overhyped,' Say IT Execs", points to the lack of understanding on how the Internet of Things is going to impact businesses.
The article reports on a survey performed by the Computing Technology Industry Association (CompTIA). This IT trade group surveyed IT executives and found that many of the execs believed the Internet of Things may be overhyped. These professionals believe that the IoT has the potential to help their businesses, but they are not sure how and they are not preparing for the changes.
"These findings are interesting," says Hope, "because the IoT really has vast potential to change the way companies do business. From greater connectivity to consumers to easier payment options and even better marketing, those companies who embrace the IoT will be poised for the best success as more and more people get connected."
According to the report, "IT industry executives are nearly evenly split in their view of IoT hype." Specifically, 51 percent believed that the benefits were worth the hype, while 48 percent felt the hype was more substantial than any potential benefit.
The InformationWeek article pointed out that the lack of standards in the Internet of Things may be part of the problem. Hope agrees that this is an issue that needs to be addressed, but he believes that it is getting addressed more quickly than people realize: "We have ZigBee 3.0 coming out now, and the IDC has brought interest to the idea of unifying standards this year. This change is coming."
Privacy is another concern. With consumers enjoying connectivity without high prices, companies lack the funds to develop the security measures they really need, but this is another change that is coming.
"Businesses that are ignoring the IoT because of hype are going to be suffering in the coming years," warns Hope. "It's time to pay attention to what is changing, and make the necessary business changes to adjust appropriately."
About Jason Hope
Jason Hope is a Scottsdale resident who focuses his resources and his entrepreneurial efforts on developing health and technology changes that will benefit society as a whole. He is an advocate for the Internet of Things and the changes that are coming because of it. Learn more about his work at http://www.JasonHope.com.
About InformationWeek
InformationWeek is an information resource available online at http://www.informationweek.com, with a corresponding digital magazine, face-to-face and virtual events, and research.