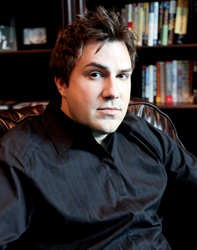 China has the manufacturing capability and technical expertise to continue to lead in this regard," says Hope. "It would not be surprising for them to be a continued leader in this field
Scottsdale, AZ (PRWEB) December 04, 2014
The Internet of Things revolution of connected devices is spreading across the world quickly. While some would expect technology leading areas, like the U.S. or some European countries, to lead this revolution, a recent article dated November 21st in The Motley Fool entitled "This Country is Leading the Internet of Things Revolution (Hint: It's Not the U.S.)" indicates the leader is China. Jason Hope, futurist and entrepreneur, believes this is less surprising than some people think.
According the article. China is leading the way in mass adoption of the Internet of Things. Around 27 percent of all machine-to-machine connections are found in China. The entire continent of Europe has 20 percent, and the United States only has 19.
Machine-to-machine connections serve as a basis for adoption of the Internet of Things. China's connections show they are trying to tie the physical world to the digital world. According to Stacey Higginbotham of Gigaom, who was quoted in the piece, "China is adapting to the Internet of things by leapfrogging earlier infrastructure efforts and letting the consumers adopt services with rapidity not seen in the U.S."
In other words, the infrastructure is there, and now China is taking advantage of it.
Why is China leading this revolution? It may be because of government involvement.
"In China," says Jason Hope, "The Internet of Things is part of the government's five-year plan. The government is spending over $600 billion for these machine-to-machine connections, so it's no wonder consumers and the country as a whole are leading the world in adoption of the Internet of things."
This lead may continue as well.
"China has the manufacturing capability and technical expertise to continue to lead in this regard," says Hope. "It would not be surprising for them to be a continued leader in this field."
About Jason Hope
Jason Hope is an Arizona native who uses his understanding of technology and investing to make predictions about the future of technology fields. He uses his resources to support research and development designed to support people as they strive to live healthier, happier lives. Learn more about his current projects at http://www.jasonhope.com.
About The Motley Fool
Founded in 1993 in Alexandria, Va., by brothers David and Tom Gardner, The Motley Fool is a multimedia financial-services company dedicated to building the world's greatest investment community. Learn more by visiting http://www.fool.com