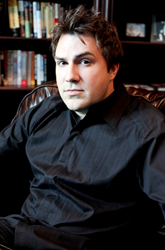 This highlights one of the main problems with the current state of the Internet of Things," stated Jason Hope. "People are not happy with their products, but they aren't sure what they want from them either
Scottsdale, AZ (PRWEB) December 07, 2014
What do consumers want from the Internet of Things? A recent article in Entreprneur.com explores this thought, and Jason Hope believes the article touched on some important issues that have to be addressed before the Internet of Things will truly be able to succeed.
For instance, the Entrepreneur.com article release on November 15th, entitled "What Consumers Want - and Don't Want - From the Internet of Things," indicated that consumers are not as pleased as companies would think about the current "smart products." The article stated that over 40 percent of people labeled smart products "more gimmicky than useful," according to a study produced by marketing tech company Affinnova. Yet the study also found that these same consumers were not sure what they wanted their products to do in order to make them happy with them.
"This highlights one of the main problems with the current state of the Internet of Things," stated Jason Hope. "People are not happy with their products, but they aren't sure what they want from them either."
According to the report, the smart products people wanted most were smart refrigerators, light bulbs, sprinkler systems, scales, tap water filters and laundry appliances. Products consumers were not interested in were smart razors, baby diapers, toothbrushes and wine bottles.
"This list makes sense," says Hope. "After all, most parents can tell when their baby's diaper needs a change, and they don't need the diaper connected to their smart phone to give them a text."
How can companies who are wanting to tap into the potential of the Internet of Things approach this list? "Companies need to realize that people are looking for connected devices that will make life more convenient and help them save money. Devices that are connected simply for the sake of being connected are not going to be of significant use, and therefore will not be something people want to spend their money on," states Hope.
About Jason Hope
Entrepreneur and philanthropist Jason Hope believes that the Internet of Things is one of the most exciting revolutions that has come in the modern era. He spends much of his time researching ways technology can better the human condition. Learn more about his work at http://www.jasonhope.com.
About Entrepreneur.com
Entrepreneur is a North American publication that carries news stories about entrepreneurialism, small business management, and business opportunities. It is published by Entrepreneur Media Inc., headquartered in Irvine, California. Learn more by visiting http://www.entrepreneur.com.