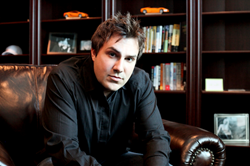 This doesn't really make sense," says Jason Hope. "After all, the kitchen is the gathering place of the home, and a place where much of the work of the home takes place. It is a prime market for connected devices
Scottsdale, AZ (PRWEB) December 10, 2014
What is the next great revolution in the modern "smart home?" According to Forbes, it might be the smart kitchen. Entrepreneur Jason Hope believes that this prediction is an accurate reflection of what the modern consumer wants out of the Internet of Things.
In the article dated November 19th and entitled "In the Smart Home, the 'Smart Kitchen' May Be Biggest Opportunity of All," Forbes indicates that the innovation in the smart home has brought new security and comfort to the modern home, but as manufacturers and developers look to the future, the kitchen may be the newest frontier of the growing Internet of Things.
Interestingly, the kitchen has not received much focus as the Internet of Things has developed. "This doesn't really make sense," says Jason Hope. "After all, the kitchen is the gathering place of the home, and a place where much of the work of the home takes place. It is a prime market for connected devices."
And consumers are using technology in the kitchen. NextMarket Insights released a survey in October of 2014 that found that nearly a quarter of all people who cook at home use a tablet or smartphone to help them cook on a regular basis, with another 34 percent using the technology semi-frequently.
"Here we have a market where technology is not only wanted but already be adapted to make work," says Hope. "Aspiring entrepreneurs can step in and make this reality part of their future by creating and marketing smart kitchen items that will make this technology just a little easier to embrace in the kitchen."
The future chef may have the ability to check the progress of the meat being cooked from a smartphone while searching for recipes on a screen embedded in the countertop or fridge. This is the newest frontier of the Internet of Things, and one with great promise.
About Jason Hope
Jason Hope is a philanthropist and futurist who believes that the Internet of Things has excellent promise to help modern people succeed. He also believes in the power of technology to improve the health and well-being of people. To reach that goal, he provides funds for important research programs in health and technology fields. Learn more about his recent research at http://www.jasonhope.com.
About Forbes
Forbes is an American business magazine owned by Forbes, Inc. Published biweekly, it features original articles on finance, industry, investing, and marketing topics. Forbes also reports on related subjects such as technology, communications, science, and law. Learn more by visiting http://www.forbes.com.