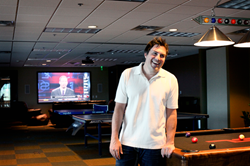 While the potential for the growth of the Internet of Things is huge, consumers are the ultimate decision makers. If they don't buy, the products fail
(PRWEB) December 13, 2014
As the Internet of Things grows, some consumers are balking at the idea of allowing big companies to control day-to-day actions, like the use of appliances, or to use these important daily use items to collect big data about their own behaviors. Forbes recently published an article discussing the fact that consumer empowerment in the development of the Internet of Things is necessary for it to continue to grow. Jason Hope, entrepreneur and futurist, believes the article touches on some important concepts.
In the article dated December 4th and entitled "Key to Internet of Things: Consumer Empowerment," Forbes contributor Jason Bloomberg indicates the reason consumers are not latching on to some developments. "Do we really want big companies dictating how we control our appliances, while collecting data about our behavior to sell us more stuff?"
"This is a crucial question to answer," says Jason Hope. "While the potential for the growth of the Internet of Things is huge, consumers are the ultimate decision makers. If they don't buy, the products fail. That's why we must empower consumers to make decisions in the development of connected products."
The article indicates that the more successful Internet of Things innovations are those that give the consumer the power to make decisions about how much connectivity their systems will have. Rather than a refrigerator that "does it all," these systems give the consumer a sandbox they can use to create a connected system that handles their needs without an over-abundance of connectivity.
The article quotes Ohad Zeira, Director of Product Management for WeMo at Belkin International. Belkin has created WeMo home automation to give consumers this type of control rather than a one-size-fits-all product, WeMo gives consumers the tools to connect areas of their home that they want connectivity, leaving alone those that they do not. For example, a consumer may use the technology to connect lights to the Internet to control lighting remotely. They can build the system and channels to do this using WeMo.
"This product and the way consumers are interacting with it and positively responding to it shows exactly how consumer empowerment is important in the Internet of Things," says Jason Hope. "Other manufacturers should take note and use empowerment as a foundation for their own future developments."
About Jason Hope
Jason Hope is an Arizona native who currently resides in Scottsdale. As an entrepreneur and philanthropist, he uses is vast resources to help the local community and develop responsible technology. Learn more about his work at http://www.jasonhope.com.