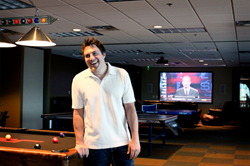 With a platform that multiple companies can connect into, we should start seeing devices come to market that actually help consumers, rather than devices that are simply 'cool gadgets'
Scottsdale, AZ (PRWEB) December 19, 2014
Intel has announced the launch of a new Internet of Things platform, as reported by Engadget.com. The new platform, which is called simply the Intel IoT Platform, is designed to unify many features of the Internet of Things to build a foundation for multiple devices to interconnect and connect to the cloud. Jason Hope believes that this announcement could make the Internet of Things more practical for the user and for developers.
According to the Edgadget.com piece dated December 9th and entitled "Intel shows off its own 'Internet of Things' platform," the new platform was developed in response to Qualcomm, which took over the mobile chip market from Intel and is starting to advance into the Internet of Things with options that could unify the market.
Intel's new platform is designed to be easier on partner companies, such as Dell and Accenture, to connect to the system. The goal is to allow devices to connect to and deliver data to the cloud. The solutions created by the new platform will be repeatable for future IoT development, thus allowing developers to stop focusing on the basic platform and to start focusing on building solutions that will address the needs customers have in the market.
"This announcement could prove to be crucial for the development of the Internet of Things," stated Jason Hope. "With a platform that multiple companies can connect into, we should start seeing devices come to market that actually help consumers, rather than devices that are simply 'cool gadgets'."
Intel has also outlined a roadmap of hardware and software products that will support the new Intel IoT Platform. This will bring some new products to the market that are vital in embracing this change. Some of the products, like Intel Security's Enhanced Privacy Identity Technology, will be items other silicon vendors can use.
About Jason Hope
Jason Hope resides in Scottsdale, Arizona and uses his wealth and skills as an entrepreneur to promote technology advancements that make life better and healthier for the modern individual. He believes strongly in the power of the Internet of Things to change modern life for the better, and also advocates for anti-aging technology. Learn more about his work at http://www.jasonhope.com.